Hi everyone! Hope all is well. Today's feature is on Giulia's shop Fingertipps!
The magic of
Fingertipps
happens in Berlin, Germany. Check out this shop for unique handmade clutches, makeup bags, bracelets, and more!
Here's a little info about our artist!
Giulia:
"What I create is most of the times a one of a kind.
The fabric I use comes from Italy and from Berlin's markets, I also collect vintage fabrics or disassemble vintage clothes. In fact I often have only a small amount of each fabric and that makes an item even more special."
Here are my favorites from your shop currently: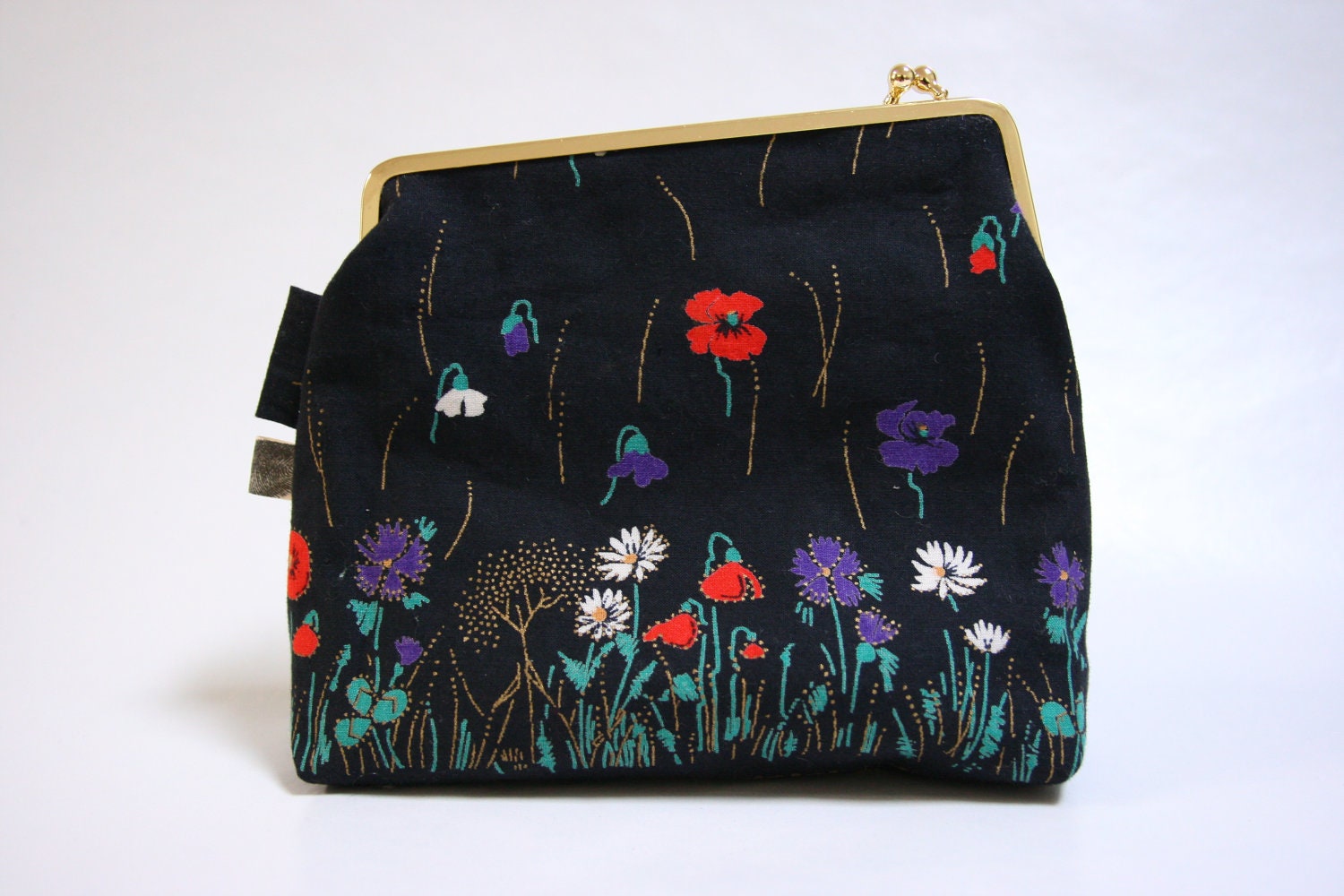 This
Kisslock clutch purse
has adorable poppies on vintage fabric! Love it! I particularly like the a-symmetry of the clasp/clip-- it adds an extra touch! It's always a plus to have something made out of vintage; it makes me feel special.
"I love to experiment, so items and patterns can also vary a lot. Some products of a specific model may be created during a week or two and then no more! That happens because I constantly need to evolve and this reflects - of course - on my work."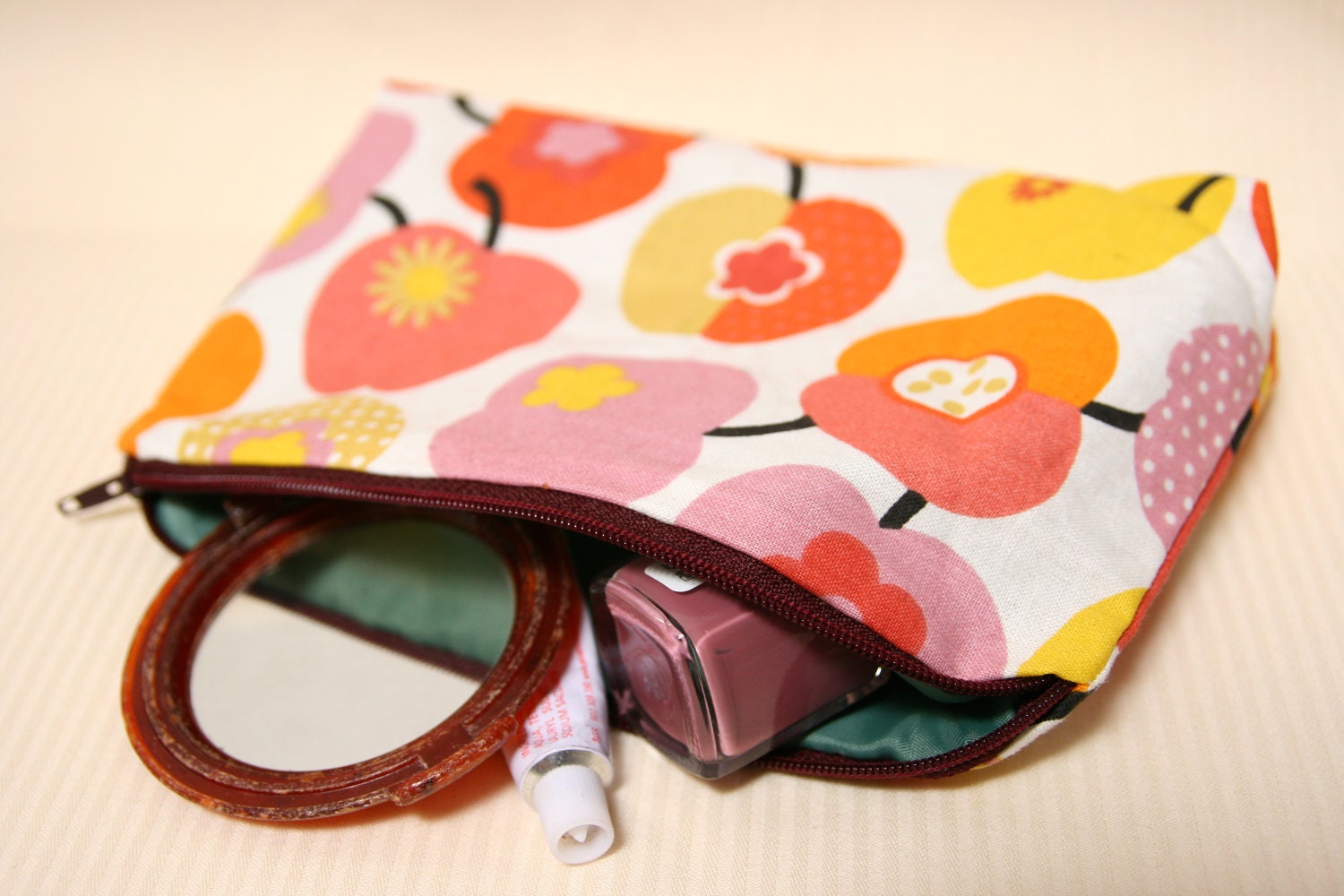 I can't ever say no to adorable fruity prints, can you? Look at these adorable apples on this
zippered makeup pouch/bag
? It looks so peachy. I love make up bags. I don't wear much makeup but I find them so resourceful for my eye drops and chap stick. They are a must for road trips and weekend getaways! As an artist, I take every makeup bag opportunity to use it as a pencil case as well!
"Sometimes I just see a color or a shape, touch a fabric or any material... and here comes the idea. I also like to create useful items so my own needs and everyday life are also source of inspiration."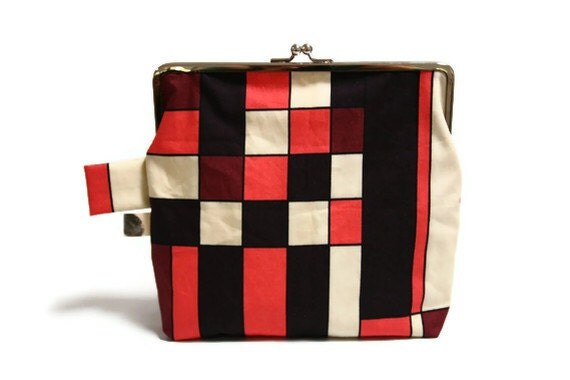 Last but not least, a fun and funky geometric and
modern handbag/clutch
. I haven't ever found a clutch in a print like this one. It's fresh and different... not the typical floral or plaid accessory. I almost feel like this print should be in a modern art museum. How sophisticated!
"I can definitely say I love to work with fabric, despite I also like to handicraft with glass, wood, and whatever material stimulates me but I just create things for my home so they're not on sale... yet! I hope I'll open a new Etsy shop with my boyfriend to sell our creations for interiors."
<3<3<3
I feel like all artists harbor a mass amount of projects and idea in their house and don't get to share it all with the world at once. Isn't that exciting that there are more shop surprises to come? That's one of my favorite parts of being a shop owner-- all the fun experiments and restocking!
Isn't this such a neat shop? I loved making a feature for it! Why not check out the
shop
and like Fingertipps on
facebook
?
EXTRA NOTE: Giulia is offering a wonderful coupon code for
30% OFF
your purchase with the code
1000thanks
! Go Go Go!
Thanks for stopping by guys!
Cheers,
Dana