Hello everyone!
Let me introduce to you Christabel, the owner of
Lonely Memories.
Here's a little info about Christabel (don't you just love her name too?):
TELL ME A LITTLE BIT ABOUT YOURSELF.
Hi, my name is Christabel and I live in Adelaide, South Australia. I have two pet kangaroos, my favourite food is Vegemite and sometimes I have to wrestle crocodiles out of my bathroom in the summer.
Actually, that's not completely untrue, I do quite enjoy Vegemite.
Creativity has been my passion as long as I remember. Being an art-lover herself, my mum inspired me at a young age, and art was always my favourite subject in school.
I'm alright with a paintbrush, but sometimes I find the flat canvas somewhat limiting. Fashion is what fascinates me; the way styles fade in and out. Why is it that we look back on our favourite outfits and cringe? I think we just want something new and unique; be one step ahead, you know?
This lovely shop is located in Australia where it is much warmer than the winter nearing for me... so time to admire all these fun summer finds. Maybe you will fancy something in the shop and buy it for the spring/summer in advance! :)
Here are some of my favorite items. (Notice they are all dresses...)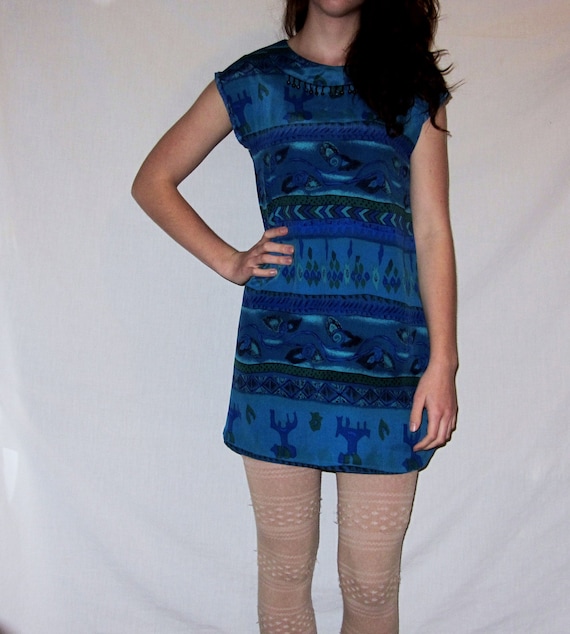 This
blue green retro dress
is really unique and fun! It's a unique print with fabulous details. I can see it working with a neutral long cardigan really well.
WHAT'S YOUR FAVORITE MATERIAL TO WORK WITH OR PROJECT?
Denim and bleach are a heavenly combination. Actually, bleach itself is just so much fun. It's all about experiments, because you can't predict exactly what will result. Sometimes it's nothing at all, which can be frustrating, but usually I just consider it a challenge.
(Christabel has plenty of personality and it shows in her work.)
This
Grey sundress with a Peter Pan collar
made me squeal. It's so simple yet so chic! You can wear is casually but still look nice and the bow detail is darling!!
WHAT INSPIRES YOUR SHOP COLLECTION?
I guess I've sort of touched on that already. I'm just drawn to things that are a little bit different (I even have a small collection of geekery that I continue to spend money on, just because). I also love to experiment, especially with colours and cuts. Shaggy chic is my style; I'm not a clean-cut kind of girl.
Because most of my clothes are up-cycled, it's often a matter with working with what I have. I love the challenge of asking myself, "Where do I go from here?"
This is my favorite vintage piece in Lonely Memories's shop right now! This
blue and white summer dress
so chic and cute with the little collar! I love high neck 70's 80s dresses so this is right down my alley even with all the little polka dots! I usually find tiny polka dots a bit overwhelming at times but this dress looks so happy and charming! Wouldn't you agree?
Okay! Lonely Memories's entire shop is full of new finds that are delicate and fun so please check out her
shop!!
And guess what?! I got to review the product-- it was gorgeous gorgeous upon arrival-- beautifully packaged with a little handmade tag! Perfection! Here are some lovely pictures I must share with you all.
This hand-dyed green tribal bird shirt caught my eye right away as well. It's different and tribal is everywhere lately... but not quite like this shirt! I also really like birds so this shirt just popped out with the bold out linings of what appears to be an owl.
I can definitely see this shirt being worn during the summer-- it's a more loose fit, flowing longer in the back than the front. You can wear it with a tank top or even a slim fit long sleeve under during the fall or winter. That's what I will be doing this winter!
What I really love about Lonely Memories's work is the craftsmanship. This is hand-dyed and it looks so clean and professionally done. I usually don't like dyed looks because it can be overwhelming and possibly flashy but this piece was beautifully dyed to combine hues of sage, lime, and ecru. I love it! It's soft, comfy, and durable!
ANYTHING YOU WOULD LIKE TO SHARE WITH THE WORLD?
My creations!
Because if you're passionate about something, you shouldn't keep it to yourself.
<3<3<3
This shop is so darling! I had to share with you all!
Thanks for stopping by!
Cheers,
Dana