Lalala... time for another shop spotlight everyone! Let me introduce
Shoshi's shop Shusha64
!
Tell me a little bit about yourself!
Hi, my name is Shoshi and ever since I can remember I loved to create!
I create with textiles, I'm sewing, crocheting and knitting.
Four years ago I had to stop work for health reasons, and I found it kind of "occupational therapy".
(I know exactly what Shoshi means by occupational therapy... and that's all jobs should be-- fun!)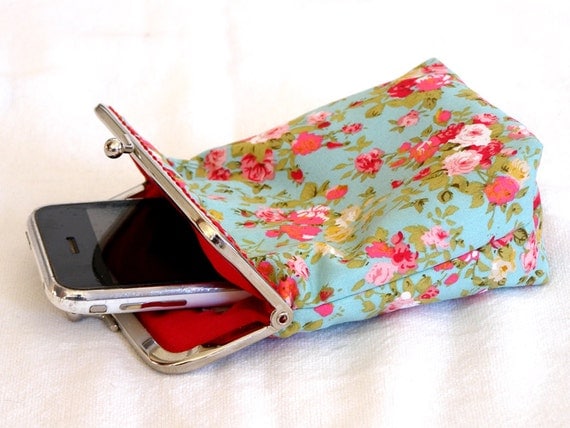 All of you iphone/android lovers will love this shop!
This
floral print iphone case
is so simple and beautiful-- i love it so! They come in so many different styles in her shop. You can use this case for an iPhone, cigarettes, Digital camera, and more.
"Beautiful, sophisticated and unique, this clutch is perfect for every woman, Holding your keys, credit cards, lipstick, ID, money, etc." (It sounds like a great Christmas present! :D)
How did you end up opening your shop?
In time I gained more and more dolls, bags and wallets that I gave as gifts to friends.
When I saw that people like what I make, I decided to open my shop.

The shop is called "Shusha" - nickname that stayed with me ever since high school.
My son designed the logo and my business card.
(How sweet!)

In my shop you will find accessories for girls and womens, accessories for nursery rooms, dolls, toys and more. Every product that make you and your child's happy!

I use high-quality cotton fabrics, wool and embroidery thread, and I combine my work all my skills - sewing, embroidery and knitting. Each item is unique and made ​​by hand invested in love, emotion and attention. I invite you to discover the unique design & quality, and I hope you enjoy using my products.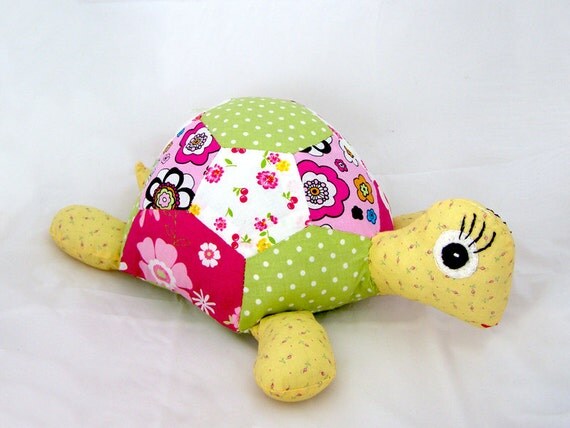 This adorable
Patchwork Turtle
is a great stuffed animal idea. Look at all the pretty prints on it's shell! I know I'm not a kid, but I still want this. The description won me over:
"The Shell made from 13 hand - sewn parts.
The best part is, when you turn him over he's just like a real turtle, and has a tummy "plate" - so all his appendages look like they're really coming out from the shell."
All I can say is that Shusha64's shop is full of great stocking stuffers... These
Babushka Russian dolls are great for tree ornament
s--no? You can even get them in different hair colors-- how cute!
What product do you like to make the most?
I like to create especially dolls - that because each doll has her character.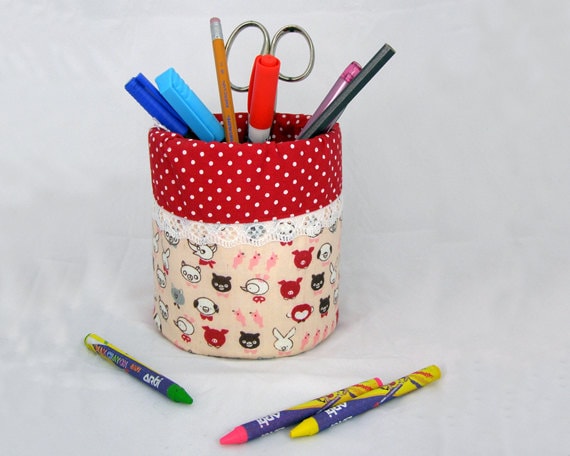 This
recycled tin can pencil holder
is so darling. All of Shoshi's print selections are so simple and perfect for cute well made home decor. I want to buy everything in the shop and fill my room with all these heart warming prints!
What would you like to share with the world?
If you're busy all the time judging people - you have no time to love them.
(Amen to that.)
Shoshi from Shusha64 was kind enough to offer all my readers a coupon code for 15% OFF any purchase with the code
THANKSDANA15
! GOGOGO!
Here's Shusha64's FB link (It's in Hebrew):
www.facebook.com/shusha.handmade
Thanks for swinging by everyone! Leave comments about your thoughts on this shop and please check it out yourself!
Cheers,
Dana