Hey everyone! We're back with another wonderful shop participating in our New Years Giveaway Bash.
Here's Dawn from
DewdropzGarden
! The shop is full of fun upcycled goodies that are Bohemian styled, while embracing sustainability.
" I originally "opened" my shop in 2010 while I was living off the grid, deep in the jungle of Hawaii. Being out of range for internet service (gasp!) I was unable to conduct on-line communications consistently. At that point I set up shop every Sunday at the South Kona Green Market, where I made many dear friends and ohana (family). It wasn't until this past march that I made the jump to Denver, attended many festivals over summer as well as other local art markets, I'm now here with my official Etsy adventure just beginning! Yay! I look forward to this experience with gratitude! "
Here are some of my favorite items: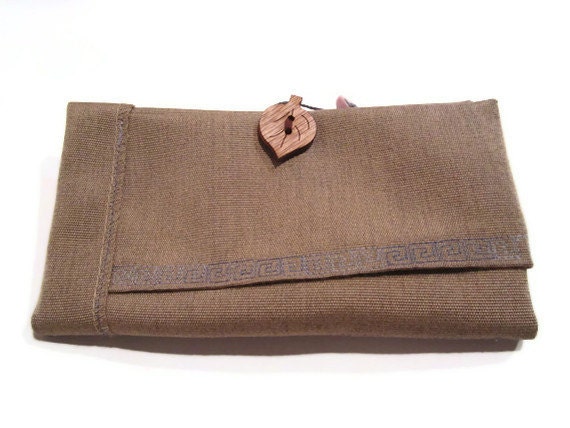 This
Canvas Wallet
is such a beautiful minimalist and upcycled piece! It is perfect for the nature lover with a 6 pocket origami billfold and decoratively stitched with a Greek motif in subtle blues. The hemp cord secures around a wood carved leaf button and a Hawaiian seashell fastener.
These
flared leggies leg flares
are new to me as a concept but really fun! Dewdropz makes them in a variety of prints but this floral one caught my eye. They are made out of lightweight cotton with elastic at the top to keep them in place of course! How fun!
"My leggie inspiration came from the electronic music festival scene and hula hoop dance...I started hooping last summer and found that thigh high or above knee leggies help give you more style as well as coverage but they have function, they also leave just enough skin bare, and bare skin helps keep the hoop up when you are hooping on your legs (=."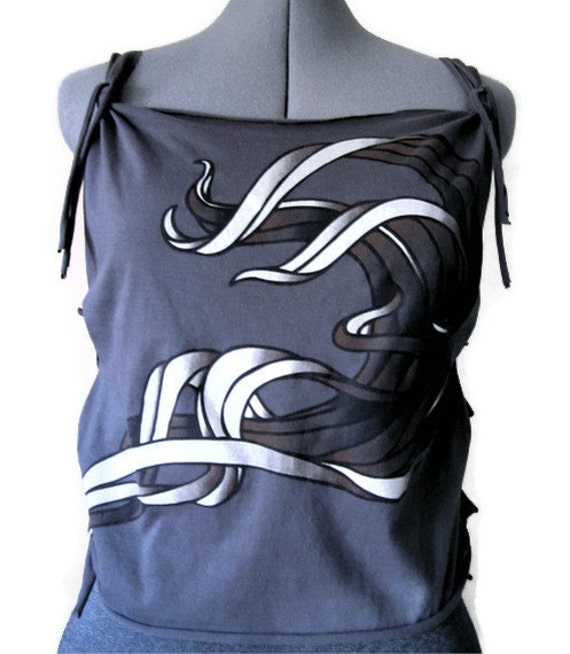 This
upcycled shirt
is also a favorite of mine. It is unique and I love swirls so the printwork on this caught my eye right away. My sharpie doodles resemble this! It's been made into a refreshing and sweet tank top with slits and cute knots along the shoulders and sides. It's great for the "not trying too hard" but cool look. :)
Yay! Now for the giveaway! Take your time and explore the entry options!
Dawn from Dewdropz Garden is giving away a $30 gift certificate to her fabulous shop!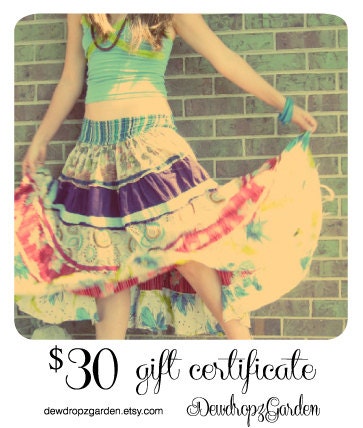 a Rafflecopter giveaway