Hi everyone!
Shop spotlights are back for the first time in 2013 with a fresh etsy shop:

I came across Holly of Custom Comix pretty randomly but fell in love with the shop and the story behind how it came to be. Enjoy everyone!
Custom Comix is a small family owned business that creates one-of-a-kind wearable pieces of comic book art. Every piece is made by hand and uses actual upcycled comic book / manga pages. We are the creators of the original comic book bracelets that have been on Etsy the past two years (and counting!)
Here are some of my favorite pieces currently in the shop: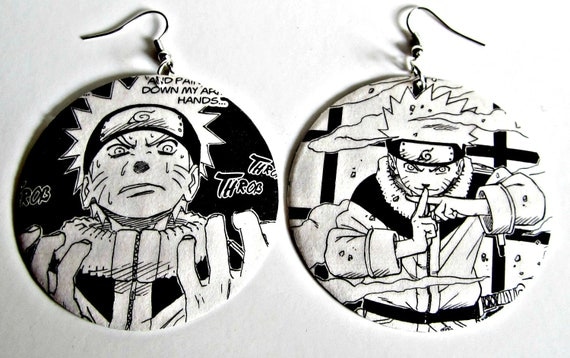 I'm a big Naruto fan and Custom Comix makes some really cool
upcycled vintage comic book earrings
with a huge variety of characters. Earrings have 3 coats of non toxic sealer that gives them a smooth finish which makes the earrings water resistant while still feather light! Awesome!
How Custom Comix Started:
If you are here and you know of my little shop, it is probably because you either are, or have a proud geek girl in your life. Have you tried shopping for her? 2 years ago when I opened up my shop, there was little to nothing out there for the geek girl to buy to flaunt her interests-- that was made with HER in mind. You couldn't go into Walmart to pick up a Tank Girl bracelet.. or anything Tank Girl for that matter. ( You still can't!) The fans of smaller fandoms were crying out for something for THEM but it wa falling on deaf ears. Coming back empty handed on a search for something for myself, I decided to just make something. Ryan joined in and that is how the comic book bracelet was born!
I was working full time at a bank and one of my clients loved my bracelet and told me about Etsy. I listed a couple of bracelets and found that I was not the only one frustrated with the selection of items available for geeky girls, and my shop took off! I was able to quit my bank job and stay home full time with my little one.
(This is a great story-- it made me smile!)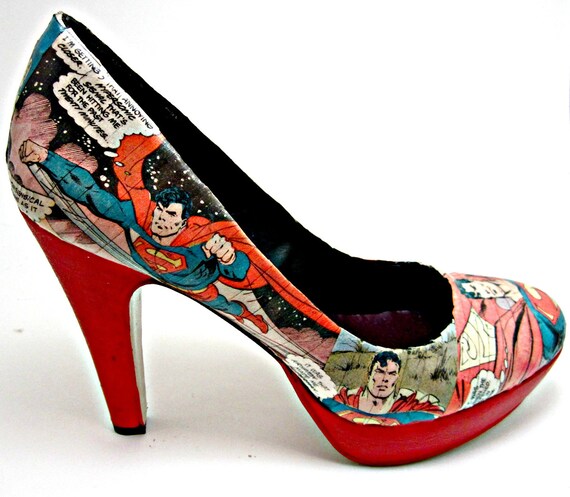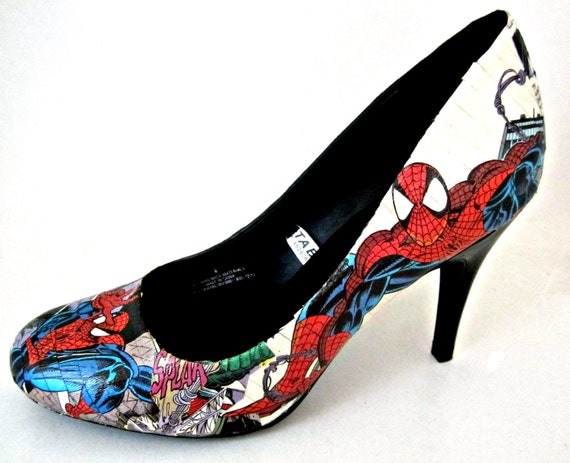 Another ingenious discovery I came across are these
custom comic book shoes
... my favorite ones pictured Spidey! Isn't that pretty cool? You can ask for a character and if available, mail in your well fitting shoes to get glammed up!! Can you see all the time nd effort going into Holly's work?! Amazing.
Tell us a little bit about yourself:
Custom Comix is made up of 2 1/2 people. My name is Holly Donahue and I hand make every item in my shop. I am also in charge of packaging, running the online store and all of the online social networks associated with Custom Comix, and I love every second of it!
Ryan Grant is my boyfriend and he is in charge of shipping off all of the items to their new homes. He is also my main support system and helps come up with new ideas for the shop, as well as help keep me grounded when convention season is here. He is also the muscle that builds all of the displays at each convention.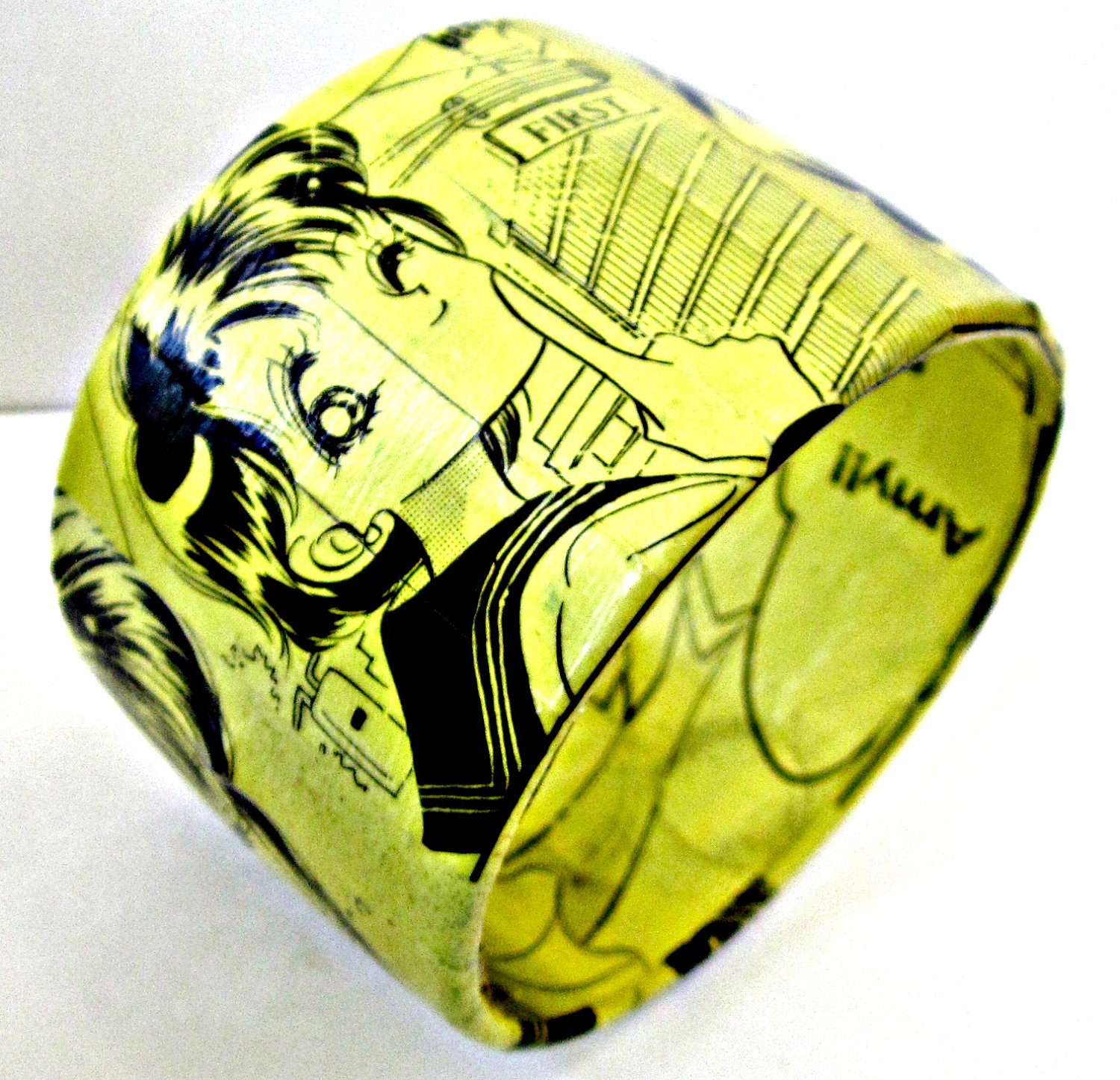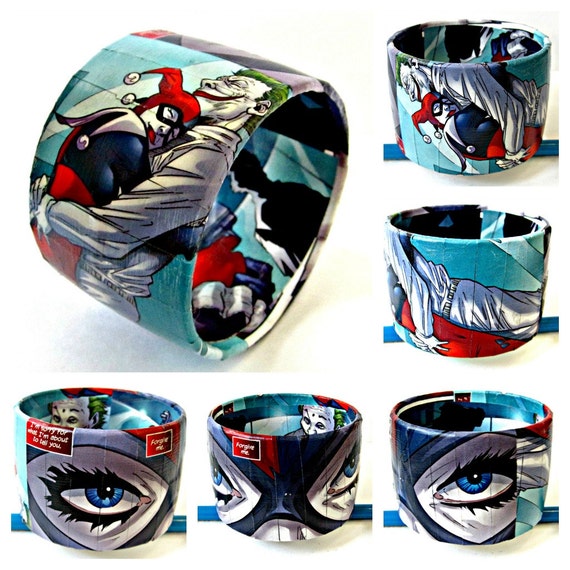 Ahhh! Finally at the bangles!! These bangles are everywhere in the shop and I chose to feature my two favorite--
Amy from Sailor Moon
and
Harley Quinn/Joker
. They are very different picks but the colorless manga pages give a different look from the fully colored comics! I enjoyed the variety and depending on your style, you can go bold or classy to your casual wardrobe to add a splash of geekycomic class. :).
How do you go about collecting/organizing all of these comics/mangas? Do you have a system in choosing what character makes it onto your artwork?
As for the comics: I buy up comics wherever I can! I have about 25 long boxes worth of comics right now and a couple shelves of mangas. I buy them at thrift stores, garage sales, book stores and comic book shops. Wherever I see a good deal on them, I snag them up! I am addicted!!

I organize them by putting the comics into a filing cabinet I bought from a thrift store, it is so much easier to find what I am looking for rather than going through box after box. The Mangas are put on my large expedit shelf from Ikea!

As far as choosing characters, I start with the more popular characters then work my way to the smaller fandoms. My shop has been open for 2 years now and I have gotten the feel for what characters people are looking for just by the custom order requests that I receive!

I also pick some characters on blind faith as well.. If I see a stunning image or action shot, I can't let it go to waste and I get to work on a new piece!
(I definitely go by blind faith and I've noticed that you must do that to grow your own business... you'll never know unless you try!).
Holly from Custom Comix is in the middle of a Indiegogo fundraiser.
Read more about her work and mission here!!
Go and support if you can!
Guess what? Coupon code for the readers!!! code: SLASH10 for 10% off!
Thanks for reading guys! Leave a comment with your favorite comic character!
Cheers,
Dana