Hey everyone!
Happy February! We're back with our month's first giveaway with Anna from One Happy Leaf.
Anna runs an adorable eco jewelry store with wooden earrings, accessories, and more!
Here's a little bit about Anna and how her shop came to be:
I'm Anna from Perth, Western Australia and I'm the person behind One Happy Leaf jewellery. I design laser cut jewellery, using sustainable wood.

Ever since I was a little girl I have had to be busy, busy, busy (just ask my Mum!). I'm one of those people who can't sit still to even watch a movie. I have to be watching a movie while painting my nails, while answering emails and reading a book.

So my little eco store came about from me being a busy little bee with a hobby that got out of control! I started playing with beaded jewellery as a hobby to fill my hours after my day time job finished. I guess one thing lead to another and my jewellery evolved and "for fun" I opened up a store on Etsy.com in 2011. Boy, has it been fun!
Here are some of my favorite items in the shop currently: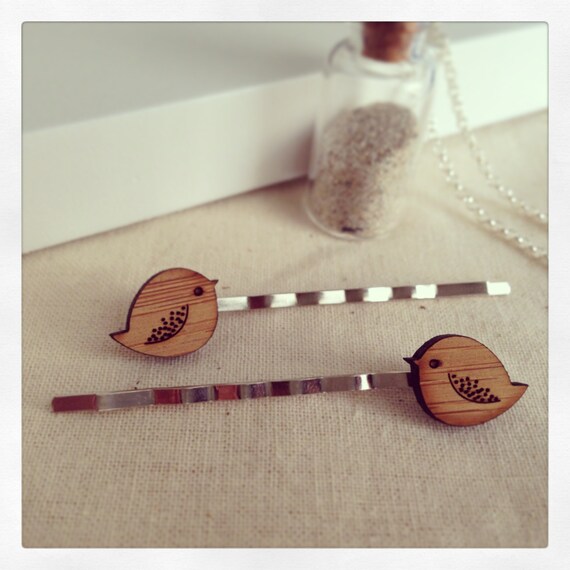 There is something truly irresistible about chubby birds. I've always loved bird accessories and this set of
wooden bird bobbies
are cute and classy! Now that I'm not in my teens anymore, hair accessories need to be worn with a bit more simplicity in my opinion. But adding a bit of sweetness always works and these bobbies come in different tone colors from silver, black, and antique bronze!
Anna:
I design predominately wooden jewellery which has been laser cut onto beautiful honey brown bamboo. I'm passionate about the environment (yes, I'm that weirdo that is always taking photos of trees and trying to pat that mangy feral animal) and conserving what we have, so it was only natural that I use an eco friendly material like bamboo. Bamboo is 100% renewable plant and considered sustainable.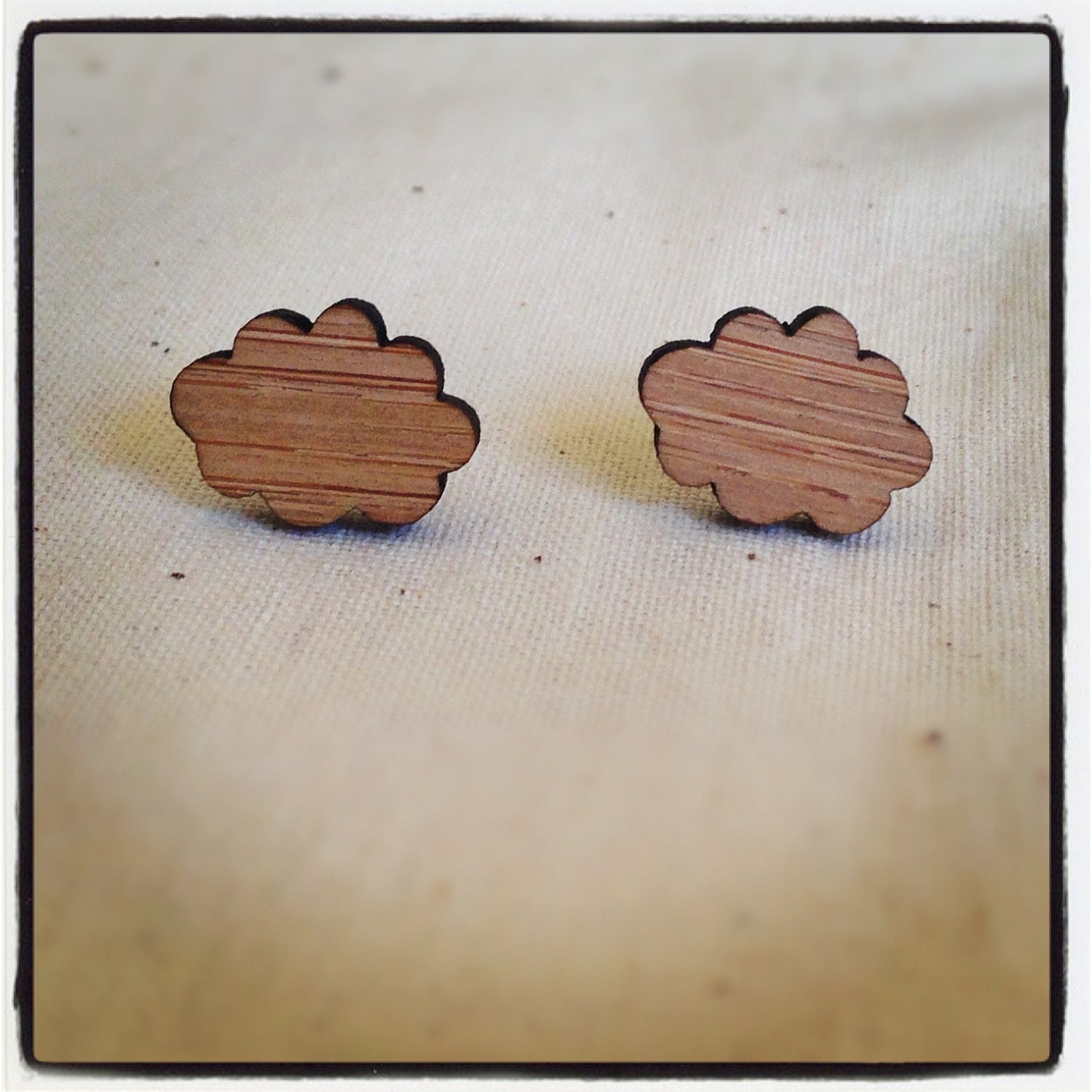 My favorites just keep going and these wood cloud studs are no exception. These
sweet little clouds
are laser cut onto beautiful honey brown bamboo wood. The edges of the earrings are "burnt" to give contrast to the lovely grained sustainable wood. Isn't that cool and eco-friendly? :D
Tell us about your laser cut designs:
Like all good things, the jewellery designing process usually starts with a tea! Then, I just scribble on my computer different designs depending on my mood. Some designs never make it to a laser cutter and are purely therapeutic! Those designs that do I love are sent to a laser cutter and returned to me to add the final pieces to complete the jewellery piece.
Last but not least, a
wonderful wolf brooch
! I debated between the
deer stag brooch
and this one and decided my love for wolves would get me in the end. I love how One Happy Leaf's work embodies a refreshing sense of youth and quirk while keeping everything simple and clean. It's never overdone yet the fine lines and detail to every piece I have seen in the shop is remarkable.
Anna on eco friendly jewelry:
Being eco is doesn't have to be daggy! My jewellery pieces are made to be fun, quirky and to be proudly worn.

Having this store has fulfilled me in a way I didn't think was possible. I'm no longer busy doing a million things at once.... now it's all about One Happy Leaf and promoting being environmentally conscious.
(Well you accomplished it and your shop is amazing!)
Readers can use:
READERSALE
to get 10% off all items.
Anna from One Happy Leaf is giving away a set of
wooden bird earrings
-- how cute.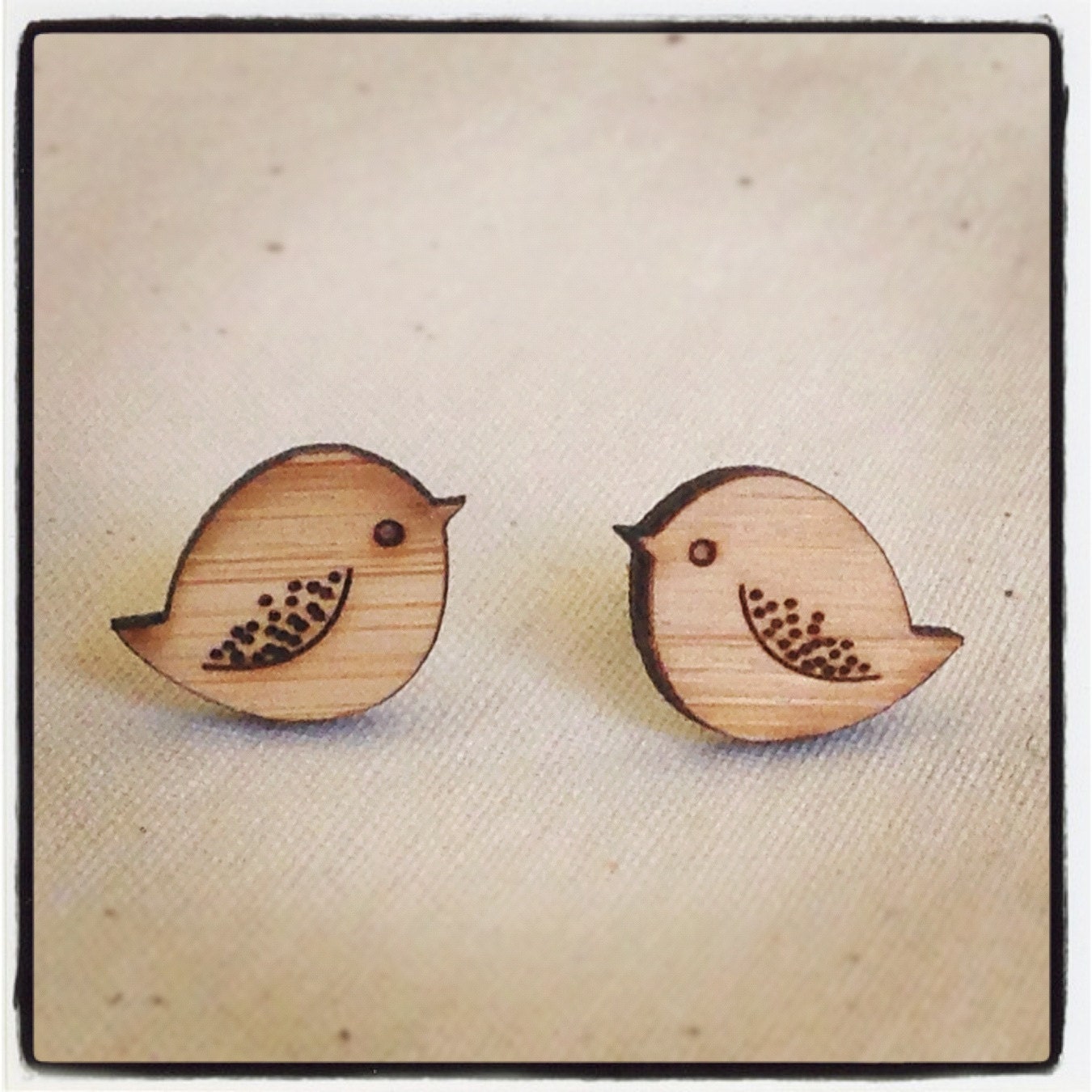 Please read the entry options carefully-- this is a worldwide giveaway (like all of our giveaways!)
a Rafflecopter giveaway
Good Luck!
XO Dana