Hi everyone! We're back with another Cheers to Novelty Alumni
- Art by Kelly Michelle!



Here's a little info/recap about our artist:
"I've always loved art and crafts, especially drawing and coloring. I like to scrapbook and make photo gifts for friends and family. I was a volunteer helper/teacher at my church for over five years, where my main contribution was making arts and crafts for up to 26 children every Sunday. Doing arts and crafts makes me happy, and gives me a way to be creative and express myself."
You may recall her beautiful greeting cards and I did a product review on a pair of beautiful bookmarks she sent me! :) Kelly Michelle's shop is still full of fun greetings cards, bookmarks, and gift tags and also a new range of greeting cards!
I got to review one of Kelly's newest greeting card designs.
Here is what the packaging looked like. It was lovely opening up my envelope and finding the card wrapped in a nice lining of paper and sealed off with a little note tag. It makes you so happy to receive handmade items packaged with just as much love. Don't you agree?
Kelly allowed me to customize the card with up to four words so I chose to prepare it for my dear friend Rory who is graduating this May from college. I knew she'd love this card design because she wears bright colors and has a personality as pretty as this flower.
The card is very thick and easy to write on. It's professional and printed beautifully. It's a pretty big card too and that's perfect for me since I write novels in greeting cards. :D The envelope also has a peel off adhesive which I am a sucker for!
Now let's look at some of my favorite items in her shop!
I received the other flower for the product review but this
blue yellow purple flower greeting card
is just as gorgeous! You can pick up to 4 words to customize the card like I did if you leave a note for Kelly in the note to seller's box during checkout. Sweet!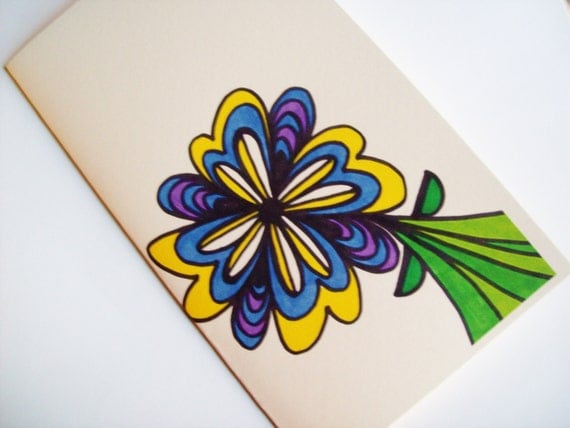 Or if you are into hearts, this springy
blue yellow green heart card
is adorable as well!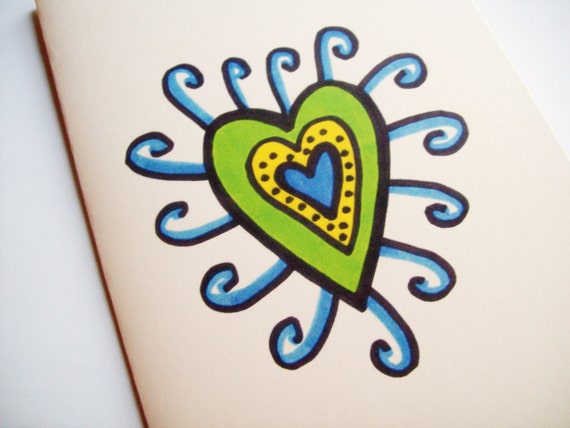 Sale and adorable alert:
These
rainbow bookmarks
are sooo cute!! Are they not? They are laminated and a great size for any book. I can say they are durable and great since I've reviewed Kelly Michelle's bookmark quality before! Bounce on this deal folks!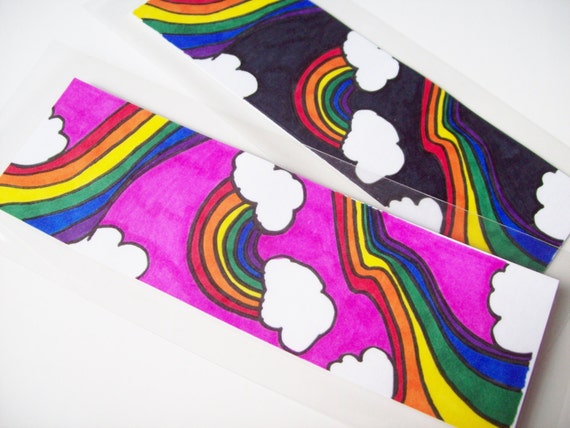 "I've wanted to begin my own art business for a while now, but didn't know quite how to get it started until I found this site. I am hoping this business will be blessed, but more importantly, that others will be blessed by it!"
These bookmarks already sold this past week!! I know that there is currently a different color set you may like. If you are interested, make sure to check out the sale section for awesome discounted items:

www.etsy.com/shop/ArtbyKellyMichelle?section_id=13247678

Also, I no longer have the choose up to four words for those listings. But since you already mentioned it I will still do it for those who see your blog post. Can you just say something like "Make sure to mention your 4 words in the note to seller section at checkout, so Kelly knows you want them. Thanks!"

Now for the giveaway!!
3 lovely flower greeting cards just like the one I received and a $10 gift certificate!! :) 2 cards are thank you cards and the third is customizable -- you just pick 4 words! woohoo!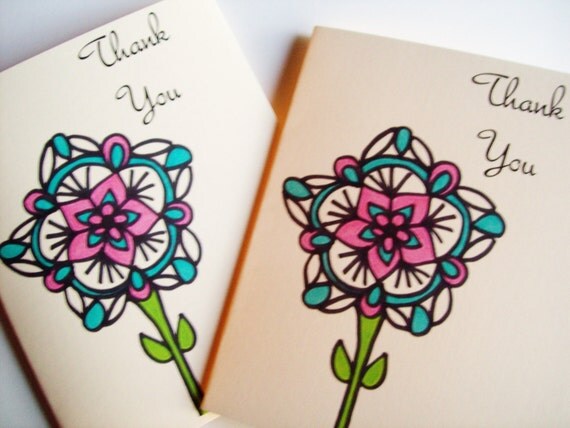 Plus, everyone will be offered this coupon code -
CHEERS for 11% off
"Special info - For 2013, there are brand new bright and colorful designs for my Etsy shop. There are some already in my shop in the Greeting Cards section, with more to come soon! Please check them out!"
Moving onto the giveaway!!
a Rafflecopter giveaway
Thanks and good luck everyone!
P.S. We're also giving away a pair of designer shades (you pick if you win) and you should enter because it's free and easy!! Ends 6/21/13 --
Enter Firmoo Eyewear's giveaway here.
Cheers,
Dana