Hey guys! We're starting off our ready for summer giveaway with a bang!

Today is all about color, accessorizing, and summer fun with White Bear Accessories and Shop Ethereal. :) I know you'll all love it!
Lindsay from
White Bear
really stole my heart with such bold colored jewelry and ombre blends that will make you melt.
Here are my favs in the shop right now!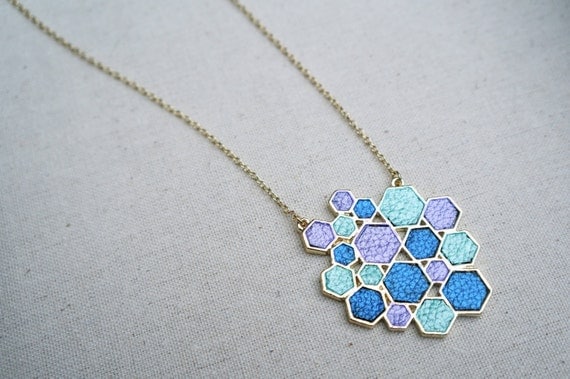 This handpainted
honeycomb necklace
is so modern and sweet. It's relaxing colors make me feel like I'm at the ocean but the hexagons give it a mod edgy twist. I've never seen a handpainted piece like this so I'm very impressed by the craftsmanship. It's gorgeous no?
How long is the making/painting process?
The process can take hours or even days to complete, depending on the piece. Between cutting the lace styles, mixing the colors, creating the ombre look, letting it dry over night, sometimes doing a second coat and then putting the actual hardware together...it can be quite long! But it keeps me on my toes ;)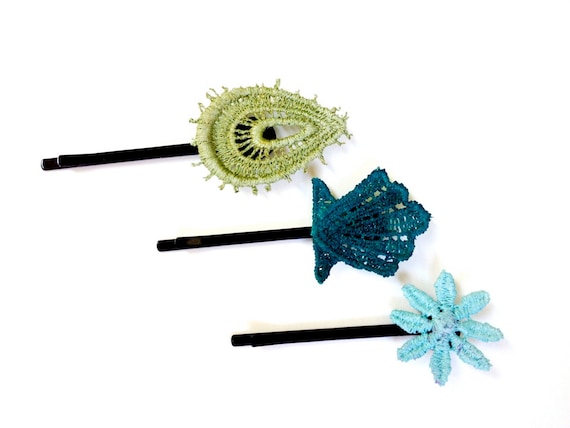 White Bear is full of lace!! Fun lacy jewelry handpainted to perfection but this
bobby pin set
caught my eye so I had to share! What's great about White Bear is that if you have a certain color set in mind, you can contact Lindsay for custom orders! She will accommodate the best that she can for your color needs. :) Here are my favorite orange/grey
ombre lace earrings
.
What got you into making lace jewelry?
I have always been a lover of anything vintage and girly. A few years ago I did come across a piece of lace jewelry that was very simple and not hand painted. I thought to myself, wouldn't that be fun if I could make it a few different colors or to make it more of a piece of personalized art work? I played around with different styles and colors and voila! White Bear was created. I love how these pieces make a statement, something vintage looking with a modern twist.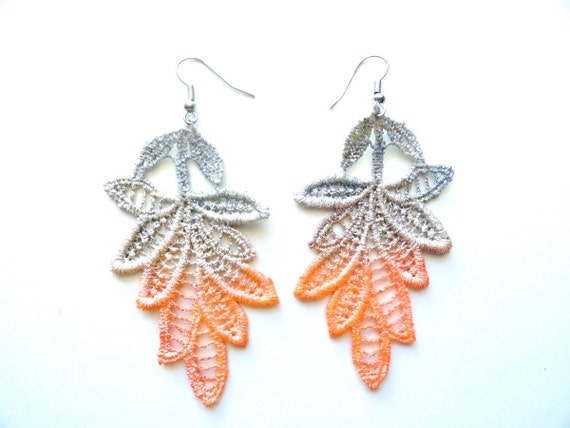 Any words of advice to small businesses?
Always be true to yourself. I've seen other shops similar to mine pop up recently. Some of their pieces might sell better because they are more commercial. I have thought about changing my style, colors, etc to become more mainstream so I could sell more jewelry. But honestly, I don't care. I know what I love to make and I think that comes through in my jewelry. If I started creating pieces just to sell to the masses, you wouldn't feel the "love" put into it, therefore might not be as special.
(I totally agree and I'm so glad that you bring such wonderful and eclectic colors/design to your jewelry!)
And guess what?! I have a coupon code for you all--
20% off with code NOVELTY20
. :)
Connect with White Bear Accessories! (They'll all count as giveaway entries!)
♥ Facebook :
www.facebook.com/whitebearaccessories
♥ Twitter :
www.twitter.com/whitebearaccess
♥ Blog :
www.whitebearaccessories.blogspot.com
♥ Pinterest :
www.pinterest.com/whitebear
♥ Instagram :
www.gramfeed.com/whitebearaccessories
If that wasn't enough awesomeness for you, here is Lindsay's
Shop - Ethereal
!
Find a beautiful selection of jewelry (including some of her lace collection) and phone cases here.
It's lovely. Here's my fav
aztec print iphone case
in stock!
Connect with shop - ethereal here:
♥ Facebook :
www.facebook.com/shopethereal
♥ Twitter :
www.twitter.com/shopethereal
♥ Instagram :
www.gramfeed.com/shopethereal
Okay then!! Let's get this giveaway started shall we?
Lindsay from
White Bear Accessories
is graciously offering a $25 gift card to one lucky winner who can spend it on anything in her shop! This is when I really want to enter my own giveaway!!
a Rafflecopter giveaway
Good Luck everyone!
P.S. We're also giving away a pair of designer shades (you pick if you win) and you should enter because it's free and easy!! Ends 6/21/13 --
Enter Firmoo Eyewear's giveaway here.
xoxo Dana