Hey everyone! We're back with another wonderful shop participating in our Ready for summerrrr (bare with my excitement) giveaway!! :) And if you were here for the New Years Bash giveaway, this is Dewdropz Garden- Cheers to Novelty Alumni as I call my lovely returning sponsors.
Here's Dawn from
DewdropzGarden
! Let's have a little recap on her life and work!
The shop is full of fun upcycled goodies that are Bohemian styled, while embracing sustainability.
" I originally "opened" my shop in 2010 while I was living off the grid, deep in the jungle of Hawaii. Being out of range for internet service (gasp!) I was unable to conduct on-line communications consistently. At that point I set up shop every Sunday at the South Kona Green Market, where I made many dear friends and ohana (family). It wasn't until this past march that I made the jump to Denver, attended many festivals over summer as well as other local art markets, I'm now here with my official Etsy adventure just beginning! Yay! I look forward to this experience with gratitude! "
You know the drill people! My new fav items!!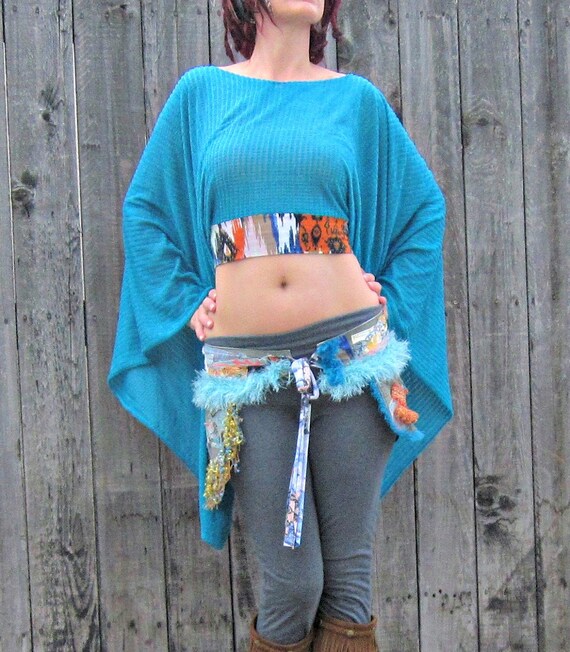 This beautiful
upcycled tunic
caught my eye right away. It's a lovely shade of blue with the aztec print cuffing around the waist. It's such a great aqua color. In fact, Dewdropz was inspired by her favorite beach on Oahu, Makapu'u. Seems very appropriate to me. :)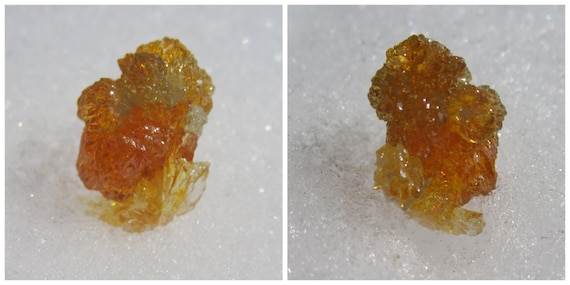 Something new I came across at Dewdropz Garden were the raw crystals. SO many colors and textures but this
zincite smelter growth color changing wire wrap stone
really stood out to me. Zincite is a semi natural crystal and is a by-product of zinc smelting. This beautiful color changing crystal goes from golden amber, tangerine with shimmering pale yellow. And this one in particular is from Poland! Very neat and beautiful.
Moving onto the product reviews... I had the pleasure of working with Dawn from
Dewdropz Garden
on a few product reviews for the new natural skin care line. Well, it's not so new to Dawn or her local customers but after months of selling locally, she decided to share the skincare line with us all! And I'm so glad it's being offered to me, you, anyone with a mailing address!
Plus, they recycle shipping material like me! It made me smile. :) Let's do a small to big order. Hehe.
So what's great about this product is that it's all natural! "Minimal Ingredients*Maximum Yumminess" as Dewdropz Garden states with: 100% Organic base of beeswax, coconut oil, avocado oil, olive oil, and shea butter. Pure helichrysum essential oil for natural sun-blocking protection.
It even has oil sunscreen in it to moisture lock and protect your lips from any damage. And for the price of $5, that's quite the bargain!
I tried the
Organic lip dew conditioning balm
in flava RUBY. There are five distinct aromas/tints to choose from but ruby's description caught my eye. It appears on your lips like a sheer ruby lip gloss but without the sticky mess. It hydrates for hours and applies to your lips very smoothly. No stains and or mess on your fingers and it's simply modest but flirty shine on your lips-- it's great!
Let's move onto a special perfume shall we?
This is the Limited Edition
"Pixie Bliss" Organic Roll On Perfume
(7ml) inspired by the element of air and daydreams of a "Day in the life of a Pixie".
I've never tried organic perfume and usually descriptions of natural perfume really throw me off because I expect a very tacky homemade smell. That's the best way I can explain how I expect natural perfume to smell, but this Pixie Bliss was such a pleasant surprise and very easy to use. It came with a shabby chic patchwork bag-- easy to toss in your purse on the go when you're in need of a spritz!
I have sensitive skin so the fact that "organic and wild harvested natural essential oils are blended with Aloha in a base of skin soothing Organic Jojoba and Sunflower Oil" made me just melt. It's like you can smell and imagine all of this as you just read it.You can smell the hints of ginger and citrus after you apply it and there's something very calming about it-- a bit earthy too. :D
Next, I received Vanilla Rosemary Body Butter. Now let me rave about something first. Rosemary is a natural mosquito repellant! This rosemary vanilla - "Innocence" organic whipped shea body butter is vegan with Raw Shea Butter, Raw Coconut Oil, *Olive Oil, *Avocado Oil, *Jojoba Oil, Olive Leaf Powder, and Essential Oils of Lavender and Rosemary (*Cold Pressed).
This body butter appears solid and not butter-like but once you dip your fingers into it, you realize exactly how thick and creamy it is! And after you've lathered it into your skin, it absorbs into your skin leaving you glazed in buttery moisture. It is perfect for some of my scarring and stretch marks. It feels thick and dewy even after so it would be best to put on after a night shower right before you sleep. It smells wonderful-- a light but buttery scent. It's by far the thickest body butter I have come across in the market! I am very impressed and keeping my eye out for more once I need to restock!
NOTE: This is perfect for post-waxing, shaving, epilating-- whatever sensitive hair removal because it's not acidic and it will really nourish your skin while getting rid of all the dead skin cells that could possibly lead to ingrown hairs. It's another product from Dewdropz Garden that I am keeping my eye on! Your skin will feel buttery soft and firmer ... even overnight. I guarantee it.
Daw:
The body dew works perfect for the end of the day eye make up remover and evening eye cream all in one =)
(Her skincare is magical. So many usages. I am officially a Dewdropz Skincare fangirl)
The Botanical Dreams lavender and rosemary sugar scrub cubes was my favorite product from the reviewed products. It feels like I'm just raving about all of these products but honestly, there's nothing to complain about! I'm serious guys, check out all this
ingenious organic skincare
!
I asked Dawn what sugar cubes were before she shipped them and they are small cubes of exfoliating magic that are full of gritty flax meal and chia seeds (my boyfriend thinks it looks like cookie dough. hehe). They are pretty thick/solid and not like conventional sugar cubes that dissolve really quickly and don't give you a good scrub before it goes down the drain. I literally just held one of these guys and scrubbed it against my legs and it lasts for a good while leaving your skin coated with smooth moisture because of the shea butter, coconut oil, and olive oil. There's one with
coffee and flax
in stock right now!
Dawn:
I always recommend if you have someone to do a back exfoliation for you with the cubes, it's like heaven. like a back "facial" scratch ;-) meow!
Yikes! I just shared so much with you all! I hope you enjoyed because now you win a chance at
winning
everything
above that I reviewed. Wicked, I know.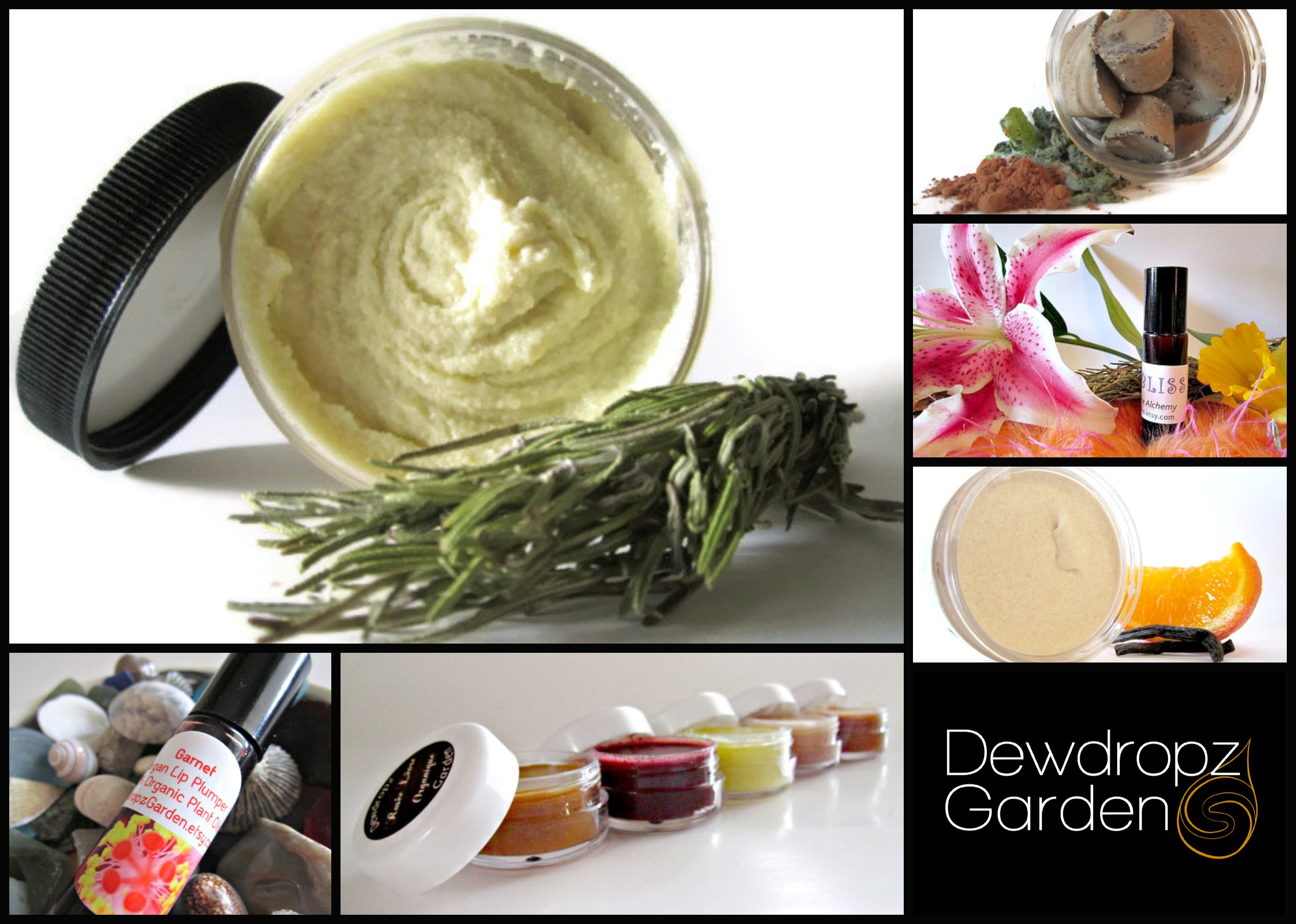 This is an amazing $57 skincare set for one lucky winner (everything I reviewed above)! Get that skin smooth and glowing for the summer. =)
The giveaway set would include: Body Dew (body butter), Skin Polish, Scrub Cubes, Lip Plumper/Gloss, Lip Dew (balm), and Pixie Perfume.
worth $57 plus free shipping.
Everything is
organic
and the only thing not vegan is the Lip Dew (made with beeswax).
The winner would be able to choose from the aromas available and tints to their liking.
Network with Dewdropz Garden:
www.facebook.com/DewdropzGardenBoutique
dewdropzgarden.deviantart.com/
dewdropzgarden.tumblr.com/
pinterest.com/dewdropzgarden/
a Rafflecopter giveaway
Good Luck everyone! P.S. We're also giving away a pair of designer shades (you pick if you win) and you should enter because it's free and easy!! Ends 6/21/13 --
Enter Firmoo Eyewear's giveaway here.
xoxo Dana