Hey everyone! Today is a brand new sponsor and you're going to love them!
TwinklePink Jewelry
is full of gorgeous jewelry and accessories at a great price.
Plus, they will ship internationally to you First Class (PRIORITY) airmail with reasonably low shipping rates. (:
Let's begin with a little info about our shop owner Annika.
"For my love to beautiful and sparkling things, I opened my shop TwinklePinkJewelry. I make jewelry based on pieces I would love to wear myself, ensuring each design is made with love, care and eye for detail."
Here are some of my favorite items in stock currently: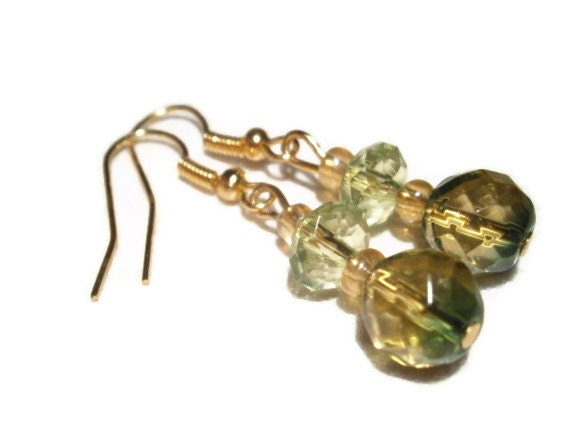 These green and gold dangle earrings immediately caught my attention with the very nature inspired hues that blend so beautifully together. Larger faceted olivine green glass bead shines and sparkles like discoball. Above that is golden colored seed bead, and faceted acrylic rondelle in a bit lighter green tone. Aren't they lovely? You can get a
matching bracelet
too!
Annika: "I live in Finland. Owner of four cats. I love walking in nature,
drawing and painting, reading good books and watching movies."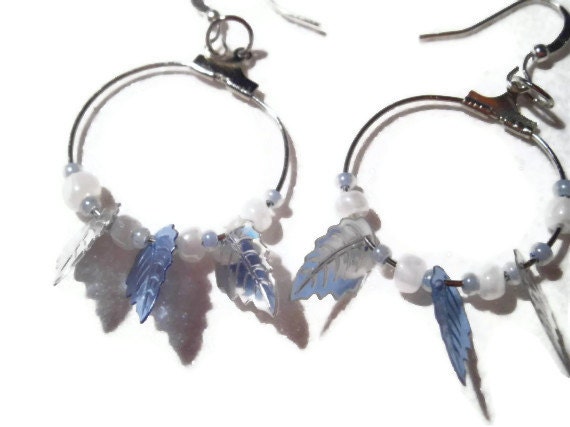 AHHH. I love feather inspired earrings-- anything that looks like a dream catcher, I am SO down for! These
frosty blue leaf earrings
are so boho chic and fabulous for the summer.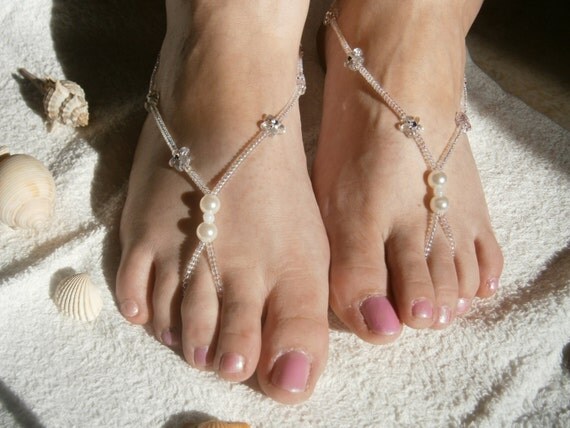 A very popular product in TwinklePink Jewelry's shop are barefoot sandals. They're really unique and come in a wide range of colors. However, these white
pearl barefoot sandals
were my favorite-- perfect or the beach!
Annika: "I have done a lot of different jobs, like make-up artist, sales person,
custom service, nail artist.. And finally found something that I
really love to do, make jewelry.
"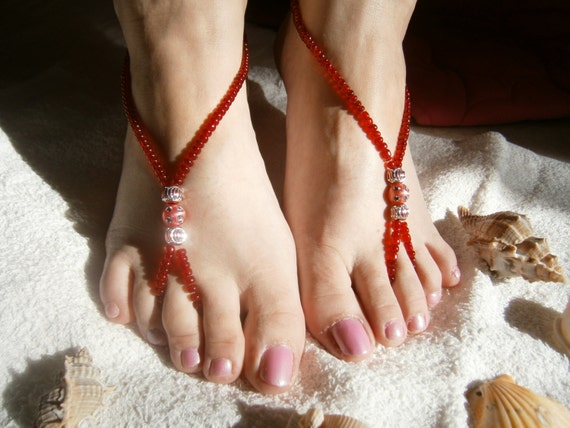 Here are a sexy pair of red barefoot sandals. They really pop and add some flare so you wear these in any barefoot activities like yoga, pilates, bellydancing. Looks perfect at pool or beach. Or give your flip flops and pumps a different look with this sparkling jewelry! I'd definitely wear them at the beach!
Now time for the giveaway!
TwinklePink Jewelry is giving away a pair of White Barefoot Sandals similar to the one I spoke about above! (15€.) Made with strong elastic nylon. Shoe size is about 37-39 or 6 1/2 - 8 1/2.
Beautiful barefoot sandals with soft look. Looks great as beach bridal sandals.
Seed beads are arctic white and silver tones. Pale blue pearls are acrylic.
Beautiful silver tone hearts in the middle gives this foot jewelry delicate look.
Perfect for those days when you want pretty up your feet, and want the free feeling of no shoes!
Connect with
TwinklePink Jewelry
:
FB:
https://www.facebook.com/pages/Twinkle-Pink-Jewelry/449090535144507
Twitter:
https://twitter.com/TwinkleInPink
Plus, here is a coupon code for everyone for
15% off your purchase with code SPRING15
Good luck everyone!
P.S. We're also giving away a pair of designer shades (you pick if you win) and you should enter because it's free and easy!! Ends 6/21/13 --
Enter Firmoo Eyewear's giveaway here.
a Rafflecopter giveaway