Hello everyone!
I've been so bad with posts lately.. my bad.
I'm back with a wonderful etsy shop called
Strawberry Moon Books
. Strawberry Moon Books sells vintage books and handmade watercolor bookmarks, along with some decoupage housewares.
Here's some info about Tenae of Strawberry Moon Books to get started.
My name is Tenae Stewart and I am a full-time art history student living in a small town just north of California's Wine Country. Strawberry Moon Books & Boutique is the first step towards my dream of owning a book and gift shop on the Pacific coast; I hope to expand into a brick-and-mortar location in the future. The inspiration to start the shop came from my longtime love of books (both reading and writing.) Some of my favorite books include The Chronicles of Narnia, The Night Circus, Sherlock Holmes and My Gun is Quick.
I can relate with Tenae since I've been a college student all throughout my etsy shop development. It's so fun to be inspired by your hobbies and interests!
Here are some of my favorite items currently in Tenae's shop: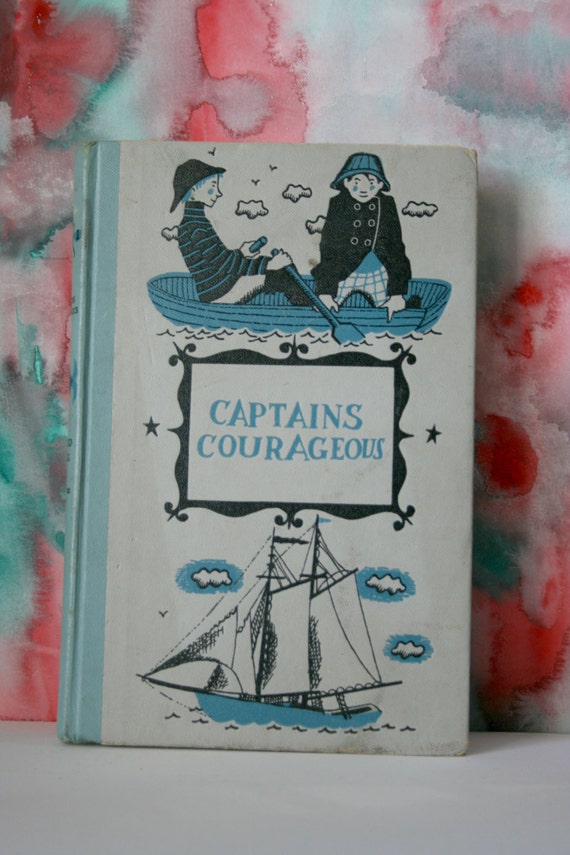 Here's a vintage hardback of
Captains Courageous
. I really loved the cover art.
Where do you get your books?
The majority of my vintage books come from library sales. It's a lot of fun - you go in with a couple of paper bags and come out with stacks of treasures, plus you get to support local libraries in the process. Sometimes I also hit up garage sales or even thrift stores. You never know where you might find a hidden gem.
I'm all for collage pieces as well. Strawberry Moon Books has a wide range of really sweet bookmark tags. Here is my favorite!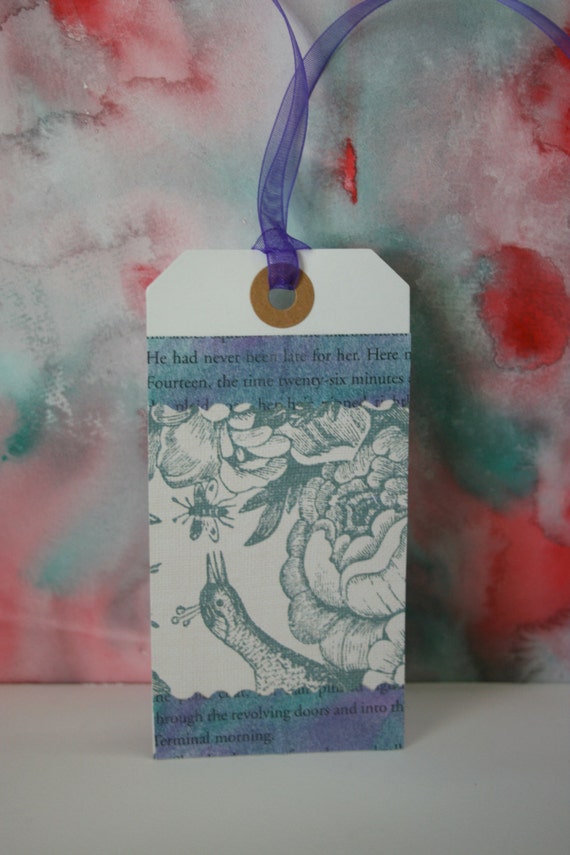 Watercolor book page tag
: I thought the medley of cool colors was so calming and beautiful.
There are so many more with different colors and even buttons...
check here
!
What inspired you to make your bookmarks?
The watercolor bookmarks originally came about as kind of an accident. I teach art at a private elementary school and had my watercolor paints out on the counter, having just finished up a project example I was planning to show the kids the following day. I knew I wanted to use recycled book pages in my designs and decided to do a little freehand "doodling" before cleaning up my paints. As it turns out, book pages look pretty fantastic with watercolor designs over them! I try to use unique color combinations like yellow, orange and purple for the abstract paintings and then play off them with the scrapbook materials. It's amazing how many different looks can come out of one piece of book page painted with a few strokes of watercolors!
I couldn't agree more. A lot of my best ideas start as accidents. So glad Tenae came across this idea!
Love this
decoupage blue bird
made out of old book pages! So sweet and simple. :)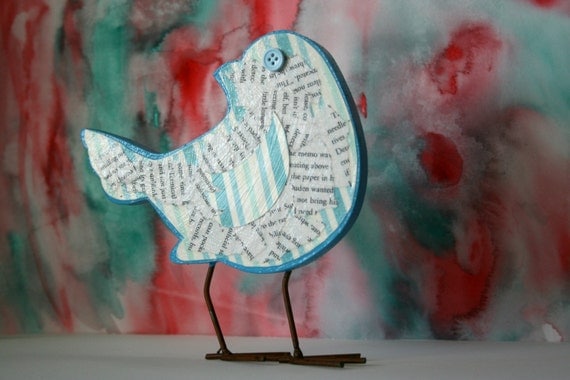 Here is some extra info on how to connect with Strawberry Moon Books:
Facebook:
www.facebook.com/strawberrymoonbooks
Pinterest:
www.pinterest.com/tenaestewart
Website:
www.strawberrymoonbooks.com
Instagram:
www.instagram.com/carlier36
Tenae was also nice enough to offer you all a special coupon code:
CHEERS15 (15% off)
Thanks for swinging by and reading about Strawberry Moon Books.
Make sure to check them out!
Cheers,
Dana