Hey guys!
Happy September! I'm here with an awesome bracelet shop called
A Lil Bit Fancy
(ALBF) on etsy.
This is a great boutique for high end and high quality leather chain cuff bracelets of all sizes and designs.
Before I get started on my review, here's a little bit about Kate
-- the designer of A Lil Bit Fancy.
I am 26. Married my high school sweetheart and we now have 2 little ladies. I am an "ex" bikini designer that had to learn to fail in order to succeed. The whole process with my bikini line was very humbling and taught me patience. I'm grateful for that failure. I have major addiction to creating! :D I actually get cranky if I go a few days with out creating something!
(Haha! I get the same way-- itching for some crafting at least once every week!)
I was very lucky to get a chance to work with Kate from A Lil Bit Fancy on a custom bracelet just for me! Here's what my package looked like:
I loved the packaging because it was durable and really cute. My bubble wrap envelope was turquoise (my favorite color) and my bracelet came packaged in a cute chevron sleeve and tied with a bow. It will definitely make you feel special opening this baby up!
Kate from
A Lil Bit Fancy
let me pick my choice colors and design. I really loved this
Boho multicolored bracelet
but wanted to get more pastel/neutral colors. Kate was very accommodating and happy to work with me on that! It turned out great and I've been wearing it ever since it arrived!
Right upon wearing my bracelet, I noticed that it was easy and adjustable to put on by myself. There was no real hassle involved with the clasp and I really love the extra charms that are attached to the end of the chain. It adds a nice bit of personality and flare to the simplicity of the bracelet. :) I'm not even a huge bracelet fan but everyone who has seen it really loves it and thinks it suits me!
Here's a fun little sunkissed photo of me and my arm candy. Wee!
I wore it all day to work and it never cinched and I noticed right away how durable it is since the leather is woven very strategically into the golden chains. It's not thick or tough against your skin and hangs on your wrist rather comfortably. The only minor not-so-much-a-problem I found was that it likes to turn towards the bottom of my wrist (basically the chain is showing up instead of the designed leather part) if I angle my arm in a certain way. But that's barely a problem since I can just spin it back in place and it happens with all bracelets!
How did ALBF begin?
I started ALBF when I was on maternity leave with our youngest Willow. I also am an on location stylist specializing in Bridal hair. I literally had some chain and leather laying around and made something with it and....So it began! Every style is handmade and completely invented by me and takes me about an hour to complete most styles. I have each one trademarked to ensure the originality that is A Lil Bit Fancy!
Here are some of my favorite items from A Lil Bit Fancy currently in stock: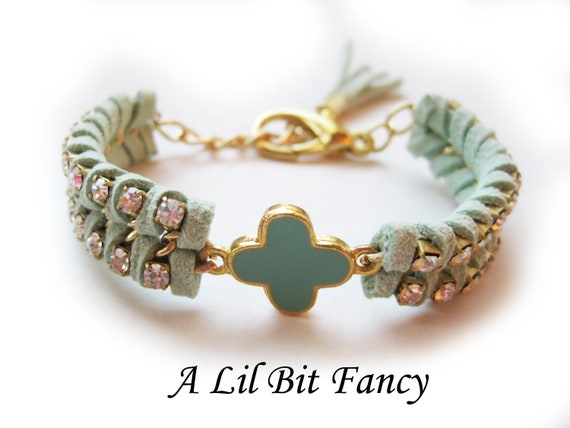 I'm not a big fan of rhinestones but I must say, ALBF really has a way of using sparkle in the right way. This
mint wrap bracelet
has such a great concept with a refreshing color choice and center pendant. My favorite little additions to all of ALBF's bracelets are the pendants or tassels Kate adds to the clasp chain.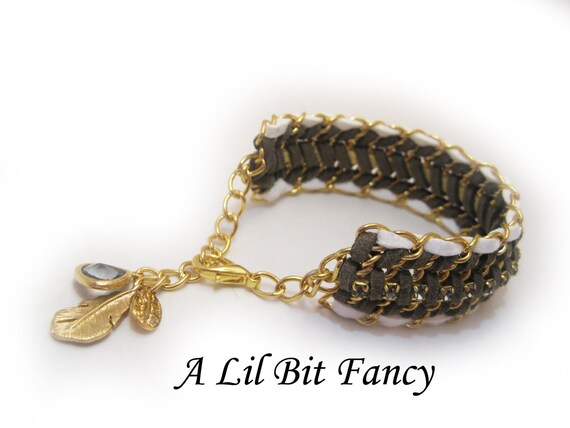 My favorite charm was definitely the sweet little feather. Here's a
gold deep grey and white bracelet
that has two lovely charms. Notice the extra little gold oval charm? It has "A Lil Bit Fancy" engraved on it so you'll remember the brand and maybe come back for more or share it with friends/family.. because they are sure to ask about your bracelet. :)
If you like thinner bracelets, no worries. ALBF has so many styles. And if you want something more specific, Kate is great with custom orders!
Kate: Creativity is a passion deeply imbedded into my soul. I must create, I NEED to create. I have a love for all things vintage. You might be able to tell subtle vintage inspired touches in a lot of my items. I love to create custom pieces, if you have an idea, I would love to bring it to life for you!
Now for the giveaway!!!
ALBF is offering a lucky winner a beautiful light mint
leather layering bracelet
. It's simple and great with build any outfit around because of it's refined simplicity.
Since I am shipping it out to the winner, I am including a little bonus prize from
my shop
: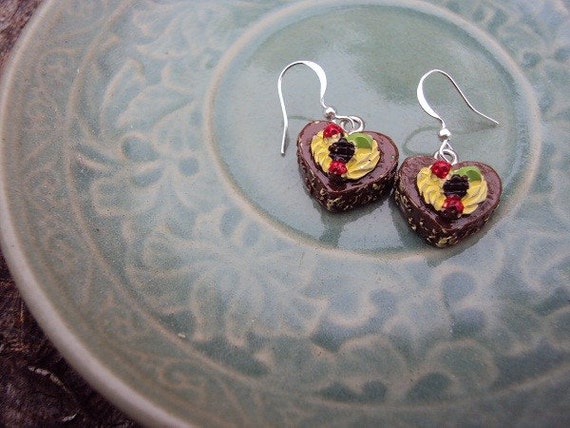 Chocolate cake earrings that remind me of fall decadence.:D
Here's how to enter. It's free to enter. This giveaway is for the U.S. only. If you would like a chance to win internationally, you may enter but will need to pay for shipping fees. Sorry!
I recommend opening up
ALBF's shop
and
blog
on a separate page to run through the entries.
a Rafflecopter giveaway
Thanks for checking out one of this month's sponsors--
ALBF
-- enjoy and good luck!
Cheers,
Dana