Hey everyone!
I am having so much fun with my lovely sponsors and here's a very special sponsor of October!
Let's welcome
I Heart Nail Art
to Cheers to Novelty! Yay! With over 1,300 sales, Julia of I Heart Nail Art is a trained artist who has created a line of unique and eclectic nail art decals!

Here's a little bit about Julia of I Heart Nail Art:
I am an artist/designer who makes nail decals in a variety of design styles. I love designing on a tiny scale. It's a fun challenge to translate my initial ideas into tiny wearable works of art! Next month, I'm expanding and opening an eco friendly wall decal store with my best friend. The store is called Baby Bodega (we're building it on Etsy now!)
Let's start off with my fun review!
I got to try out two of I Heart Nail Art's designs--
Tetris
and
Bunting Flags
.
I decided to apply my bunting banner over cloudy nails and my tetris pieces on a simple mauve to make the shapes more wearable even to work. If you want your pieces to really pop, place them over white! You'll see them for sure! These sticker sheets are $7 each and good for a minimum use of 4 manicures depending on how you cut the shapes and your nail size.
These stickers were both so cute and easy to use! I'll take you through the process of how I applied them right after I share about the packaging.
"I love to come up with unique nail creations. I am constantly inspired by the world around me." -Julia, I Heart Nail Art Artist
The stickers arrived safely in an envelope both individually packaged beautifully with I Heart Nail Art's logo. They were placed between a sheet of cardstock for extra rigid mailing support with a sweet thank you note. :)
Let's move onto the simple steps I took to use my
I Heart Nail Art stickers
. They are easy, mess-free, and long-lasting! You can use one sheet for multiple manicures or share it with friends. I decided to add a cloud effect to my nails to make the bunting banners look like a festival sky. (If you want to learn how to make clouds,
click here for a tutorial
.)
Right away, I knew these stickers were nothing like the fragile stickers I have used in the past for my nails. When you peel off the stickers, it's not overly sticky or thin. It holds it's shape for the most part and once you dab it down in place on your nail, it will stay there for sure! The clear coat on top really seals it in and makes the sticker lining fairly unnoticeable. If you want really unnoticeable lines, I should cut the shape close to it's exact form. If you have clumsy fingers, I recommend you cut them a little larger but still small enough to stick to your nails. :D
I didn't have any problems placing the stickers. The only thing I caught onto after my first few stickers was to cut the sticker with curved corners to avoid them running into the sides of your nails or cuticles. I have fairly small finger nails but I Heart Nail Art's designs still fit!
With continual top coat maintenance, this simple but unique nail art can last 2 weeks!!
So which design do you like better? I can't decide!
Let's look at
I Heart Nail Art's Shop
now! Here are my all time favorites:

These modern designs are based off of
Mark Rothko Paintings
. It takes nail art to a new level of modern class and color blocking. I can see these babies working all year around-- especially during this fall to winter transition time. There is warmth and coolness to the set collectively. The set features 18 Rothko paintings on 18 different decals, which is enough for 1 full manicure and a few accent manicures.
"The recent wave of amazing nail art inspired me to turn my own attention from traditional painting to working with nails. The store grew out of my initial explorations."

My childhood comes alive with these darling
PacMan Nail Decals
! I love the food dots and incorporation of edible and not so terrifying ghosts. Plus, the fruits are so cute. :)It just takes me back to countless hours I have spent playing this at the arcade or at home.
"I love science, art, pop culture, fashion, and anything with a sense of humor. I'm constantly inspired by my travels too."

Since I showed my favorite artsy and cutesy one, this is my elegant favorite:
Vintage Purple Lace Decals
. This is the first product I saw from I Heart Nail Art and it was just so calming and beautiful. The dusty purple is to die for matched with the floral lace! :D
What is your work process like?
Sometimes my designs start on paper, or from a photo, but most of the time something pops into my head, and then I play around in Photoshop and Illustrator, trying to get my idea just right. Then I create the physical decals over the course of several days. I think nail art is a great quirky niche within fashion, and the medium constantly inspires me. I love that everyone can rock it!
If you ever plan on having a party or need stocking stuffers, this is the way to go!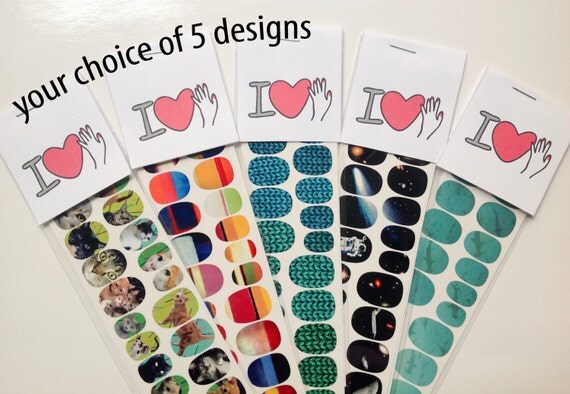 Go make everyone want to be your best friend by clicking here for your choice of 5 designs.
Now pour the giveaway!!!
One lucky winner will be receiving a special prize pack of the most popular designs at I Heart Nail Art. It will be one killer surprise!
Keep I Heart Nail Art's social networks open on seperate tabs to make entries easier for you:
twitter is: @naildecals
facebook is:
www.facebook.com/IHeartNailArt
etsy shop: www.iheartnailart.etsy.com
GOOD LUCK!
a Rafflecopter giveaway
Cheers,
Dana