Hey everyone! Please welcome today's Super Sponsor
oBo Creations.
oBo Creations is based in Geneva, Switzerland and makes delicate colorful art jewelry that is painted by hand.
I am reviewing my favorite product from oBo Creations very soon. I am so excited to wear this
modern dark blue ring
as a statement piece with any outfit.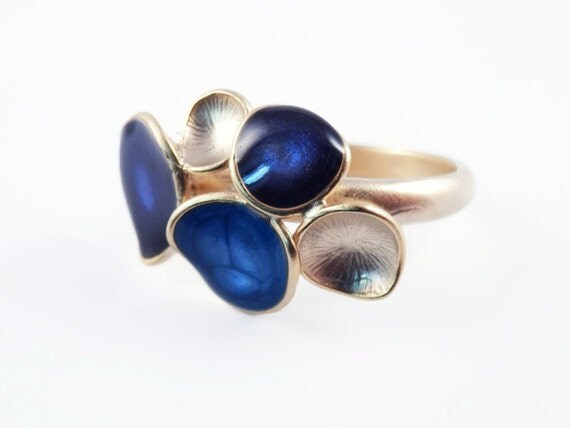 So let's start off with packaging and shipping. This baby arrived in a nice bubble wrap which contained a little logo gift box. The gorgeous ring was sitting nicely on top of the cotton cushion!
I know that I showed you guys a blue ring above but I received a purple and sage ring instead! I initially chose blue because I have fair skin and wanted it to pop against it. But, I was pleasantly surprised with this color combo. My favorite color is that exact minty turquoise and the purple complimented it very well! Just make sure that when you are buying one, you think about your wardrobe colors and what will match with these rings. A hue of blues or green is easier to match than two adjacent colors like mine. It also gives off a more "cool" color feel that is best/appropriate with spring and summer colors.
I immediately loved how modern this ring looked with the bubbles and fun assorted colors. Olya from oBo Creations actually handpaints them. I absolutely love cool colors and this ring just reminded me of the galaxy and things you find in coral reefs all at once. It's such an eccentric piece!
It's pretty amazing if you think about oBo's jewelry being hand-made. It looks so perfect-- down to the solidified pools of colors sitting in some of the bubbles.
I wore my new
oBo ring
since yesterday and it was very comfortable. It actually adjusts because there is a full loop ring around your finger and on the very end, you can pull it out or in depending on your ring size. This ring without adjustment fit my middle finger perfectly but I wanted it on my ring finger for a more feminine feel. I thought it might pinch or hurt if I tightened it in, but it didn't! :D I prefer this kind of adjustment over the kind that split in the middle of the ring and poke at you. haha!
I wore this statement ring in the shower and washed my hands with it on several times. It was not affected at all! One thing I'd really like to note is that it's very light! I expected it to be a little heavy with the added bubble details but it's actually just as light as my other simple rings. The hand-painted bubbles glisten and swirl in different lighting as well. It's a beautiful metallic glaze!
I can see myself wearing this ring all year round casually with some color-blocked outfits or with my summer dresses. I am super excited and every time I see it, it's simultaneously soothing and fun.
"
oBo's signature style is bright colors, delicate adorable designs and things that are unique and not mass market. oBo creates for those who look for being special, like to discover and be differrent."
All of oBo's jewelry comes in handpainted assorted colors like this really beautiful
nature gold necklace
.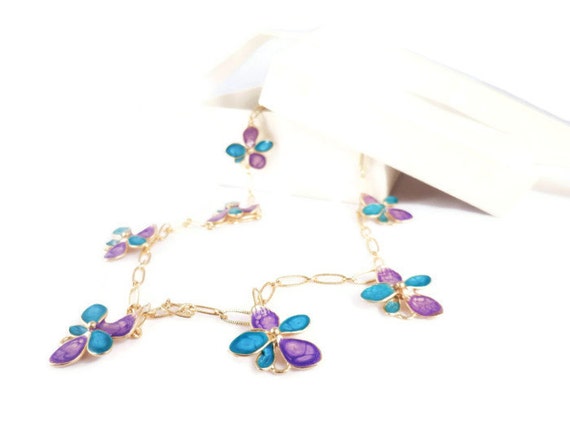 Or even these fun
purple gold studs
that remind me of outer space.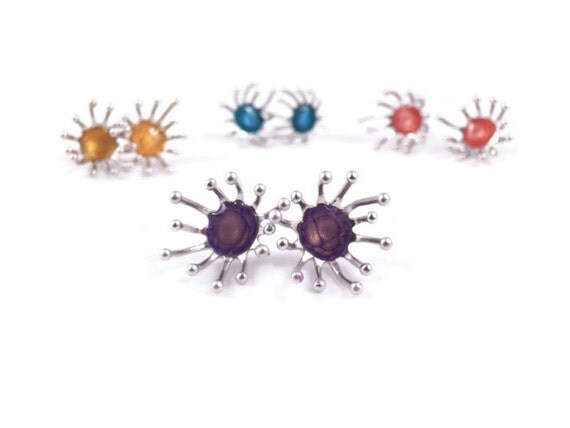 The lucky winner will receive this handpainted oval purple pendant necklace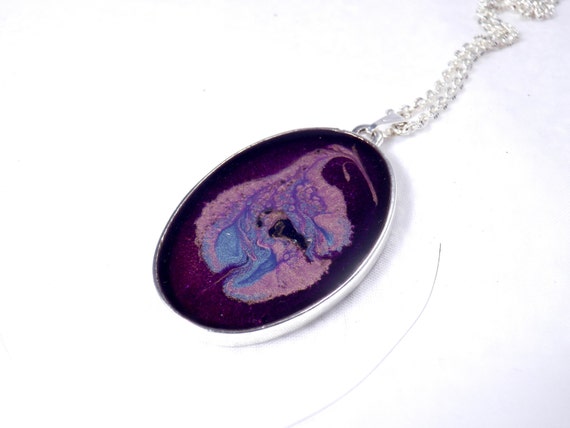 This giveaway was extended in order to wait for the product review item to arrive. Thanks for your patience!
a Rafflecopter giveaway
All giveaways are worldwide. Please make sure to read all the entries correctly and leave your emails with any comment. :) Good luck!