Hey guys!
Hope everyone is doing well and staying warm.
I'm here with a nice treat you all with the amazing shop
Eternal Girl
.

Eternal Girl carries henna inspired jewelry and gifts. The jewelry is made of hand-drawn designs. Each drawing features an object that has specific symbolism to henna tradition.
How did Eternal Girl get started?
Julia of Eternal Girl:
I've always loved to draw ever since I was little. A few years ago, I ordered some necklace supplies and began experimenting. I was drawing lots of henna inspired designs at the time, and that's what I ended up drawing for the pendant necklaces. After about a year of making necklaces as gifts, my friends encouraged me to sell them online. So, I opened my Etsy shop in August 2012.
Eternal Girl was super awesome and sent me a necklace of my choice to review! Here is the
Kree necklace
that I chose: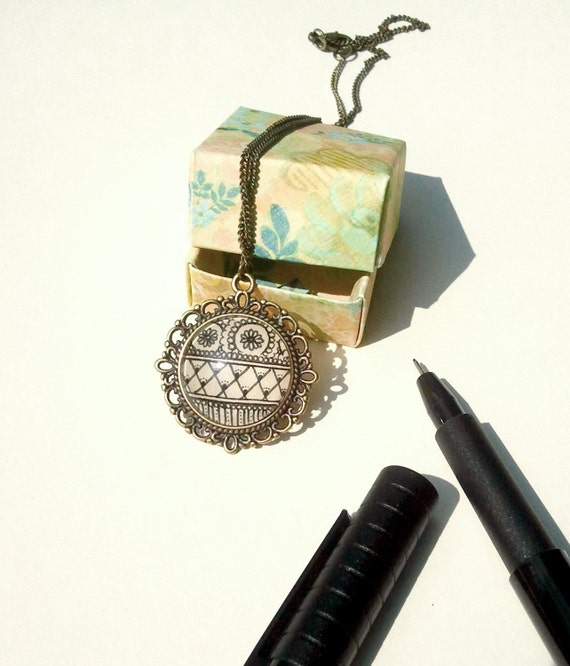 It initially reminded me of an owl and I loved that it was actually a print. The crazy thing about this necklace was that I loved what it looked like in the photos but it was even nicer in person!
Let's talk about the packaging first:
Eternal Girl shipped my order (extremely fast may I add) in a bubble wrap envelope that had these goodies inside. I received my necklace in an adorable origami box (that is reusable), a business card, and a friendly note. You could easily gift any of Eternal Girl's jewelry as a nice present since they are basically gift wrapped in these great deco paper boxes! Handmade touches are so awesome.
Here is a more up close picture of the necklace. Pictures honestly don't do justice for these necklaces... take my word for it! The clear bubble on top of the artwork really magnifies the artwork's details while adding a nice pop to it. I really like this necklace-- it's subtle but intricate. You can wear it with just about anything too! Here I am wearing it out on a casual day.
I wore the necklace with a black turtleneck blouse and it really popped! The chain length is great and you can just put it over your head if you get the long chain. I'm a lazy daisy and like efficiency. :) If you want it shorter, Eternal Girl has two options: 18 in or 24 in!
The necklace actually has this antique feel to it because of the brace color and it's just really lovely. The chain is a nice thickness that doesn't pinch at your skin and doesn't weigh a lot either.
I am such a bohemian-inspired "stuff" lover. I love the intricacy in henna and in the feel good artwork involved in bohemian print work. Eternal Girl really exudes that kind of free-spirited girl that I try to live by. It's a great philosophy. :)
Eternal Girl:
I really like my paisley necklace design. I like to call this a "free style floral" design, where I can go beyond the constraints of a typical flower and draw free flowingly, so to speak.
Some of my current faves in Eternal Girl's shop includes: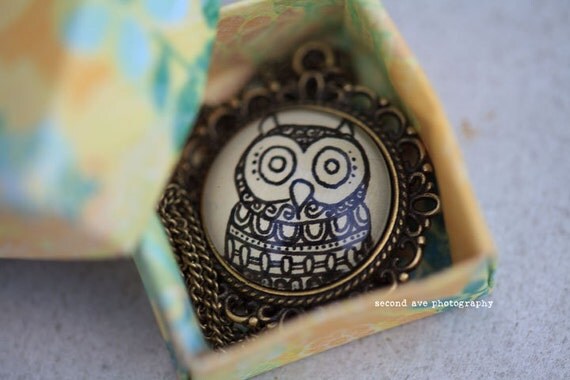 You can find an assortment of artwork for your jewelry but here is my favorite black and white one.
You can't go wrong with owls!
But I also love the saturated vibrant artwork that is colored in like this
turtle necklace
.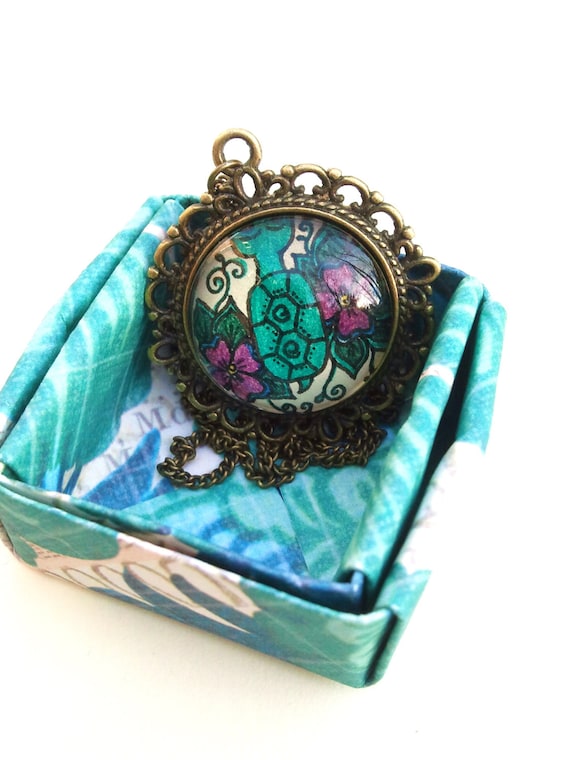 These are just two of the many many necklaces that Eternal Girl offers. They have zodiac to sports team themed necklaces along with some earrings and greeting cards as well.
Definitely check Eternal Girl out!
Okay okayy..... time for the giveaway!!! :D
One international CTN reader will be receiving a $10 gift certificate to anything at Eternal Girl! That could be a custom ring and a greeting card or whatever amazing prize you like at Eternal Girl!
Just enter through rafflecopter and here are Eternal Girl's links if you have any issues accessing rafflecopter links.
Connect with Eternal Girl:
FB: www.facebook.com/eternalgirlshop
TWITTER: http://twitter.com/eternalgirlshop
PIN: http://pinterest.com/eternalgirlshop
BLOG: http://juliaspuellaaeterna.blogspot.com
a Rafflecopter giveaway
Good luck everyone!
Cheers,
Dana