Hey beautiful people!
I have a special super sponsor post today with
The Howling Boutique
.

Here's a message from Mardi, the designer:

Hello! My name's Mardi and I'm the owner / creator / designer of The Howling Boutique, a jewelry store currently specializing in nail polish jewelry. Everything is 100% handmade by me - I even create the nail polish used in my pieces completely from scratch! So come browse THB's goodies and enjoy this awesome review by Dana!
(Thanks Mardi for thinking my review would be awesome ahead of time. I hope I do you justice!)
I had the pleasure of reviewing two pieces of jewelry! Here's one of the two below:
Before we start the full review, I want to talk about customer service.
Mardi of the
Howling Boutique
is very sweet and responsive. I believe any customer would have a wonderful experience working with her on a custom piece of jewelry or just in general for any questions/concerns you may have as a buyer.
Here's what my packaging looked like. Mardi did a great job using ample tissue paper and bubble wrap to make sure my products arrived safely. My package-- like all orders from The Howling Boutique-- came with a tracking number as well.
I had the pleasure of reviewing a product that Mardi made just for me. She let me pick out what kind of pendant style and metal color I wanted. Then she asked me about my favorite colors in order to get an idea for the glitter mixture. Did it turn out to my liking?
Yes! Mardi made me a beautiful turquoise and blue opal pendant necklace. It reminds me of all the best aspects of snow and mermaids... ooh. mermaids!
I also received a matching round ring that was just a little bit more saturated than the colors you see in my necklace. The ring ($17) was really cute and it's adjustable. My fingers are so thin-- this baby was still big without adjustment but for most women, this will fit just fine. The adjustable part of the ring will not poke you. It's sturdy and comfortable... and really doesn't take away any class from the ring's design!
Okay, so moving onto my opal turquoise necklace details. My necklace is a $20 opal necklace on a long 24" silver chain. I always liked long chains better and the pendant turned out larger than I thought so I was glad I went with the long chain. It's just long enough to put over my head and the pendant is definitely a statement piece. I wore it all day and it wasn't itchy or pinching my neck like some chains do. It is very comfortable and has minimal weight due to the pendant. I enjoyed playing with it throughout the day and gazing at all the glitter. :D
Chains come is a 3 varieties: (all lead & nickel free with lobster clasp closures): a 24" antique silver link chain, an 18" antique silver link chain, or an 18" black organza ribbon featuring a 2" silver chain extender.
These pendants are bound to twinkle in sunlight-- how magical!
I mainly took this picture to show you all the length and overall feel of this necklace. I'm actually not a huge glitter fan in statement jewelry. This pendant actually has a refined charm to it that is fun yet simple at the same time. I can imagine wearing it all year round-- especially with a nice solid top or dress. It's not everyday you try something new and love it! :)
The really cool thing about The Howling Boutique's work is that you can be completely customized since all the glitter is hand blended and painted! These jewelry pieces are all one of a kind! Every piece of jewelry is unique and there are no duplicates in the
etsy shop
or in
Howling Boutique's domain
website as well. Check out both for more variety and fun!
Here are some of my favorite items in stock: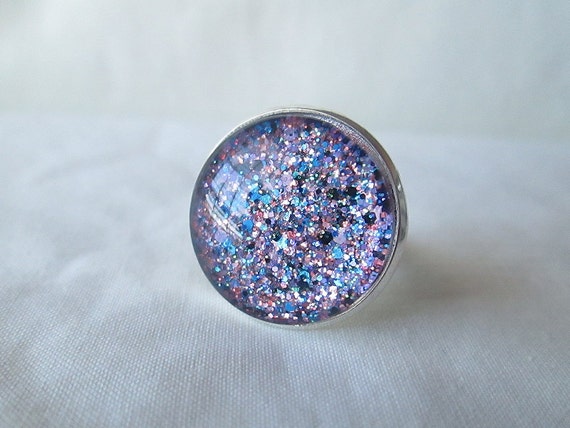 This
rainbow purple glitter ring
reminds me of mermaids and the new years glam colors!
Anything special you want to share about your work/products?
Mardi:
The majority of people who make nail polish jewelry simply buy store brand or indie brand nail polishes and use those. But the nail polish that's featured in all of my jewelry was handmade by me! I do the same thing indie brands do only my nail polish is used in my jewelry. I do, however, plan on releasing bottles of some of my handmade polishes later this year.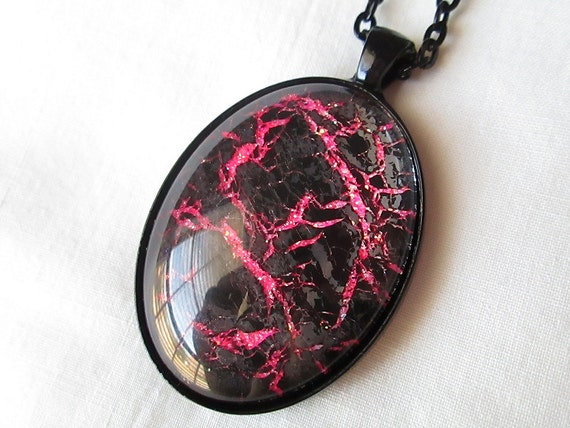 Dark Pink and Black Shattered Glass
Glitter... how edgy and fun. Anyone seeing molten lava?
How did your shop get started?
Mardi:
I've been hand making jewelry for over nine years for myself or as gifts for friends and family members. I became interested in it after it seemed I could never find "what I wanted". Most of the stuff I saw was either gold (ew), the wrong color(s), bundled with other items I didn't want and didn't want to pay for, too expensive, or shipping was ridiculous. So I started making beaded bracelets and necklaces, and then charm necklaces and earrings, then stud earrings, and then finally the handmade glitter nail polish jewelry I have in my store. Even though I plan on adding some of the other jewelry I mentioned and still make, I wanted to open my own shop with something really unique and special.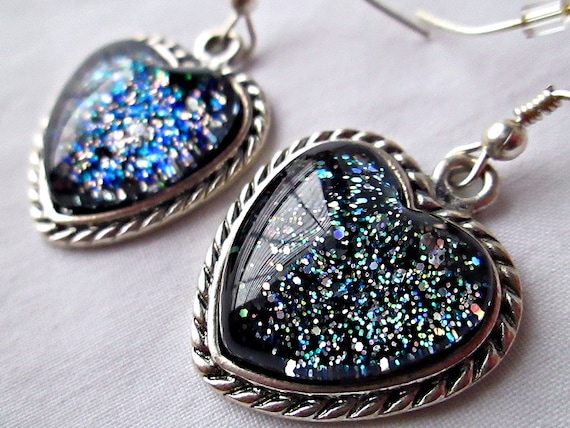 This color is so much like space and the galaxy... I love it!
Check out the black rainbow glass dangle earrings!
What is your favorite product to design / make?
Mardi:
I really enjoy the planning and designing process! I love combining a bunch of different glitters and then making the nail polish from scratch. It's really fun to see how layering this polish with that one can create such awesome effects! Aside from that, my favorite settings are the scroll edge circles and ovals so I really enjoy making those.
Here is Mardi's beautiful workspace. I loved all the colors and I can see why the planning stage is her favorite! Just look at all the fun!
Okay everyone! That's the end of my review. I hope you guys enjoyed the Howling Boutique's shop spotlight. Here is a coupon code for you all and social media links for the giveaway!
Coupon Code:
CHEERSTONOVELTY
for 15% off entire purchase prior to shipping.
Good through the next month starting from this giveaway. :)
Be Friends with the Howling Boutique! Social Media / Links:
The Howling Boutique Online:
www.thehowlingboutique.com
The Howling Boutique on Facebook:
www.facebook.com/thehowlingboutique
The Howling Boutique on Twitter:
www.twitter.com/howlingboutique
What are we giving away? The Howling Boutique is generously offering this beautiful heart necklace! The colors are SO gorgeous! It's literally all my favorite cool colors in one necklace!
Antique Silver Glass Heart Glitter Nail Polish Pendant Tray Necklace is valued at $18.00.
Winner chooses between a chain or organza necklace:
The antique silver link chain is available in 18" and 24" and has a lobster clasp closure with the links being oval in shape and 3x4mm. The organza ribbon is black and 18" long as well with a silver lobster clasp closure and a 2" chain extension. Everything's lead & nickel free.
Want to like and share on facebook for an easy entry?
Here is the post you must like and share
!
a Rafflecopter giveaway
This is an international giveaway. 18 years+ can enter or with parent's permission. :)
Good luck and give this amazing super sponsor some love! Thank you Howling Boutique for sponsoring CTN and offerings a wonderful giveaway!
Cheers,
Dana