Hey beautiful people! Welcome to March Giveaway Madness!
March has been a splendid month full of super sponsors who are really bringing my blog to life lately! Good thing blog CTN is keeping me going... because medical classes everyone... is indeed very strenuous. What better way to bring some color in my and everyone's life than GLITTER!
Yes.

Glitter Lambs Nail Polish is a custom indie handmade glitter nail polish lacquer that is mixed and blended by us. All of our nail polishes are considered glitter toppers which is a clear based glitter polish that is to be worn over another base color. We make our polishes from scratch. All of our glitter nail polishes are 3-Free and packed full of pretty shapes and glitters.
I got to review any polish from Glitter Lambs and chose this beautiful one with stars and glitter called
Skunk Got Style
($8.00)
I was immediately drawn to it because of the stars and different sized silver glitter. I already knew I wanted to try a galaxy look with it so I did! I made a little slideshow to explain it better.
1. Paint your nails a metallic navy blue.
2. Use white polish to dot across our nails at an angle.
3. Use your glitter polish to add the galaxy effect. :)
The package arrived safely in a double packed bubble wrap envelope with styrofoam inside for extra padding. The nail polish looked very professional with the cute Glitter Lamb logo as well.
Now this nail polish is a standard nail polish bottle size jam packed with glitter and two little metal balls inside to help shake up the glitter when needed. It smells like your average nail polish and glided onto my nails like brand new nail polish should with no problems at all.
I was surprised at how nicely the different glitter chunks were mixed together. The brush picks up the glitter very well and the glitter didn't clump while I painted my nails. Honestly, I only have good things to say about this Glitter Lambs polish. It dried nicely (and fairly quickly may I add) and my experience working with Glitter Lambs from beginning to end went smoothly.
The great thing about nail glitter toppers is how versatile they are. You can easily tame this look by going for a paler color for your backdrop. White nails with this glitter polish would look great but if you want to go all out like me, a shiny or sparkly backdrop will look fabulous as well. I will probably wear these nails during the summer with pastel colors too. How gorgeous! And guess what? Glitter Lambs Polish sells a variety of glitter toppers... check out my favorites!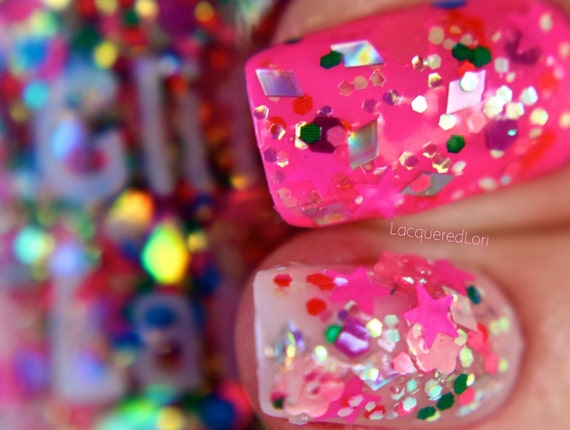 Sweet Tooth Pink Glitter Topper Nail Polish
could not have been named any better. It's like waking up in a dream candy land. It's so vibrant and happy... plus I just love the little stars!
How did Glitter Lambs get started?
Glitter Lambs was originally started as a beauty cosmetic website that me and my daughter did. It consisted of makeup reviews and polish reviews. I actually started painting my nails and would review polishes....and before I knew it I had stumbled upon a whole world of indie polish makers. I began to grow very interested in making my own polish and wondered if that was even possible. The next thing I knew I was pouring over the internet and researching everything out that I could about how to make nail polish.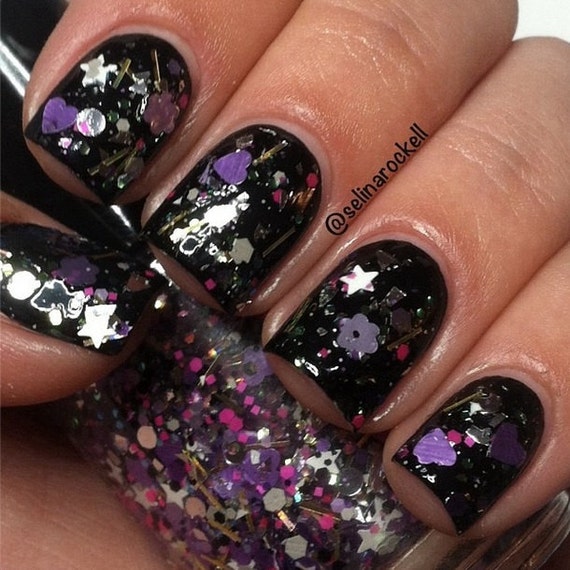 Rock Star Purple Glitter Topper Nail Polish
is such a fun topper! It's feminine but edgy with that blast of confetti-like glitter. I love the hearts as well!!!
Glitter Lambs:
We have unique glitter nail polish toppers that are sure to get your nails some attention. We strive to come up with cute glitter toppers just for you!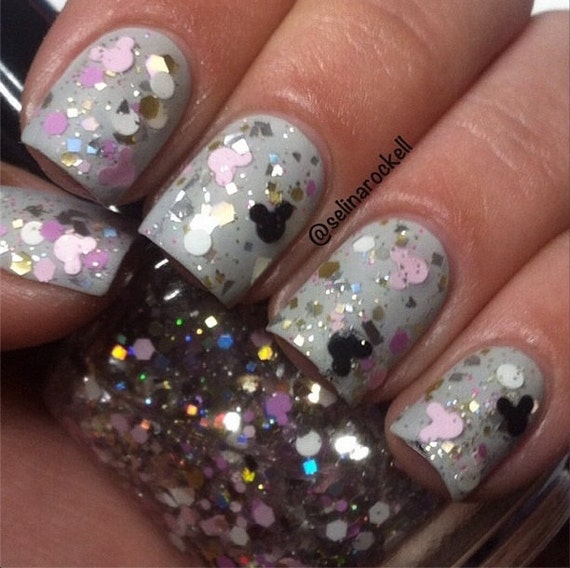 Glitter Lambs:
We also run a children's ministry website at www.ChurchHouseCollection.com along with many other websites.That is where it first started. We started working online back in 2010 and now we run over 2,000,000 million page impressions a year across all of our websites that we run.
One international winner will be receiving 2 of their choice nail polishes from Glitter Lambs! (You can pick from anything in stock but here are some amazing examples!)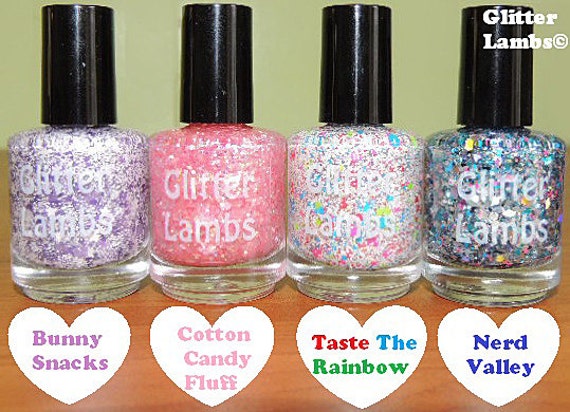 Connect with the fabulous Glitter Lambs Polish:
Website-
www.glitterlambs.com
Instagram-
instagram.com/glitterlambs
Like and Share this Facebook post for more entries by
clicking here.
a Rafflecopter giveaway