Hi everyone!
Let's welcome a returning awesome possum super sponsor:
Glitter Lambs Polish

Glitter Lambs Nail Polish is a custom indie handmade glitter nail polish lacquer that is mixed and blended by us. All of our nail polishes are considered glitter toppers which is a clear based glitter polish that is to be worn over another base color. We make our polishes from scratch. All of our glitter nail polishes are 3-Free and packed full of pretty shapes and glitters.
I got to review 4 polishes from Glitter Lambs which of course had me going crazy!
I had several fave picks for Jamie of Glitter Lambs Polish (GLP) and she sent me all of them. :D
Here's a realistic picture of them taking over my dresser one by one.
I've worked with Jamie from GLP before so here's a quick run through of some stuff I discussed before about great packaging and why I like the polishes.
The package arrived safely in a double packed bubble wrap envelope with bubble-wrapped polish. The nail polish looked very professional with the cute Glitter Lamb logo as you will see!
How did Glitter Lambs get started?
Glitter Lambs was originally started as a beauty cosmetic website that me and my daughter did. It consisted of makeup reviews and polish reviews. I actually started painting my nails and would review polishes....and before I knew it I had stumbled upon a whole world of indie polish makers. I began to grow very interested in making my own polish and wondered if that was even possible. The next thing I knew I was pouring over the internet and researching everything out that I could about how to make nail polish.
Now this nail polish is a standard nail polish bottle size jam packed with glitter and two little metal balls inside to help shake up the glitter when needed. It smells like your average nail polish and glided onto my nails like brand new nail polish should with no problems at all.
Now.. you can really work your level of glitter however you want but here is what I did. I painted my nails in a nice soft nude. Then I painted with the Mickey and Minnie top just ONCE. This will give you a nice glitter effect that i no heavily saturated. After that, I went fishing for little Mickey mouse glitter to place on each nail. I wanted the look to be fun but not too shiny so I like what I got. Every time I looked at my nails, they just made me so giddy and happy. :)
But if you want to go crazy-- go crazy! Here's a fun swatch example of a much more saturated glitter look: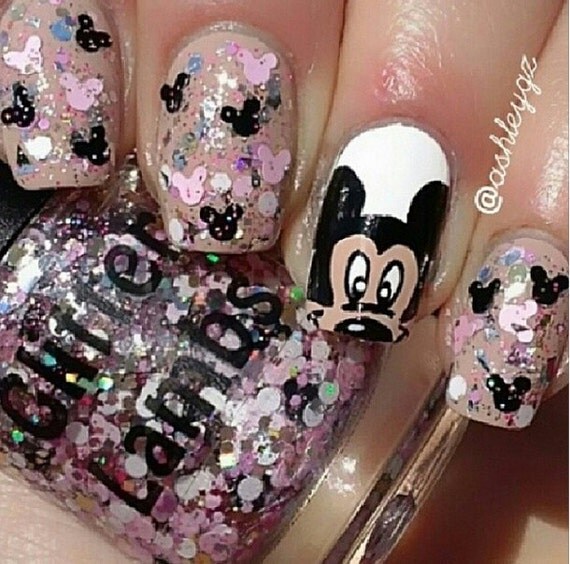 Glitter Lambs:
We have unique glitter nail polish toppers that are sure to get your nails some attention. We strive to come up with cute glitter toppers just for you!
My second pick was this
Kawaii Bake Sale
polish below:
This was my favorite polish out of the four because it encompasses all the cool colors that I like. I love the soft pink and purple medley going on and it reminded me of mermaids-- a new color/concept obsession of mine. I decided to use little fimo fish to decorate my nails in an "Under the Sea" look.
I only colored half of my nails but it turned out great. It's a glitter polish I would definitely use on the full length of my nails as well because it's a soothing set of colors.
This
Tea Party Polish
is new to GLP and also simply sweet. It's just a medley of pink and gold in mostly smaller glitter gradients. It's not as chunky as the other two above but very easy to apply with any color. I went with a nice purple/blue. :) Plus, this is just one coat!
This last
Pastel Macarons
polish that I tested out was a unique summer color blend. I wasn't sure if I would like it because it has a variety of colors but I wanted to try out something new for the summer. When it arrived, I immediately thought of pink lemonade and Easter. Didn't they turn out so fun and cute?!
That is the end of my review of GLP! Here are two examples of GLP swatches with clothes:
I wrote this in my last review and it still stands true: I was surprised at how nicely the different glitter chunks were mixed together. The brush picks up the glitter very well and the glitter didn't clump while I painted my nails. Honestly, I only have good things to say about this Glitter Lambs Polish. It dried nicely (and fairly quickly may I add) and my experience working with Glitter Lambs from beginning to end went smoothly.

The great thing about GLP's glitter polish toppers is how versatile they are. You can easily tame this look by going for a paler color for your backdrop or just using 1 coat of the glitter. Or go for a glamorous shine with multiple coats or a strong contrasting backdrop color. :)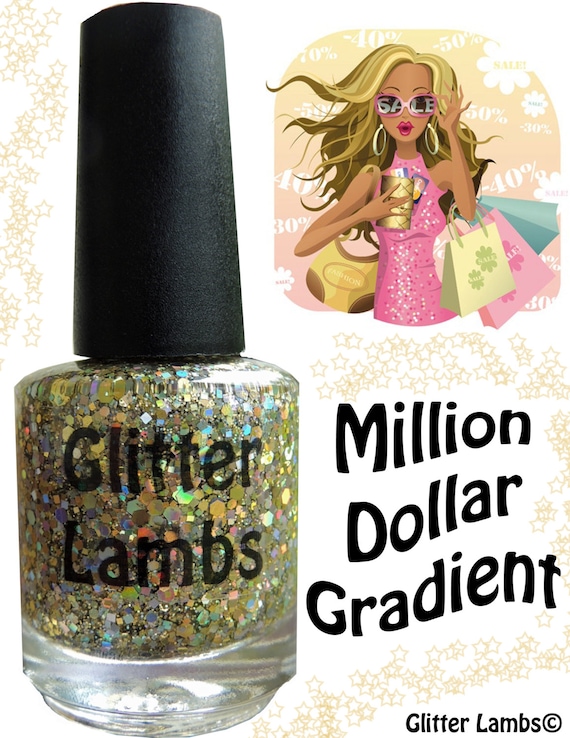 I asked GLP what polish is her favorite right now and this is what she (Jamie) said:
Million Dollar Gradient is my favorite nail polish is my store at the moment because it's goes with any color and the glitter mix in it is just GORGEOUS!!! It's made just for doing gradients.
Glitter Lambs:
We also run a children's ministry website at www.ChurchHouseCollection.com along with many other websites.That is where it first started. We started working online back in 2010 and now we run over 2,000,000 million page impressions a year across all of our websites that we run.
Connect with the fabulous Glitter Lambs Polish:
Shop link-
www.etsy.com/shop/GlitterLambsPolish
Website-
www.glitterlambs.com
Instagram-
instagram.com/glitterlambs
Now for the international giveaway!!!
One international winner will be receiving 2 of their choice nail polishes from Glitter Lambs!
(You can pick from anything in stock and this post had some amazing examples!)
a Rafflecopter giveaway
Good Luck everyone!
Cheers,
Dana