Hey everyone!
I have spent the past few weeks "glitterfying" my nails with the most sparkly and adorable glitter toppers from
Glitter Lambs
. I teamed up with Glitter Lambs to offer you a chance to win some glitter nail toppers of your own!
Here's a little bio on the lovely shop:
"Glitter Lambs Nail Polish is a custom indie handmade glitter nail polish lacquer that is mixed and blended by us. All of our nail polishes are considered glitter toppers which is a clear based glitter polish that is to be worn over another base color. We make our polishes from scratch. All of our glitter nail polishes are 3-Free and packed full of pretty shapes and glitters."
Let's start off with the package I received.
My review products arrived very quickly and all my bottles were wrapped individually. All the polishes arrived safely and beautifully!
I reviewed 5 polishes of my choice and went at it with these colorful swatches.
Let me know which one if your favorite!
I've reviewed Glitter Lambs' polishes a few times now and I have never been disappointed. The quality and effort I see going into the design and customer service of this glitter nail toppers is so great. I love the variety they offer from colors to glitter shapes. My favorite glitter shapes are the hexagons and stars but all the different shapes come together so well in these mixtures!
Here is a perfect example: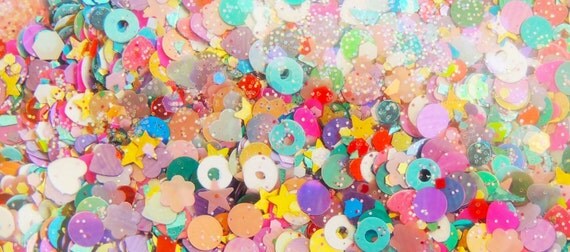 Jamie from Glitter Lambs keeps the creativity flowing. Look at all these cute Christmas polishes that came out already right after I chose some of my faves to review! You will always have a plentiful amount of colors, themes, and glitter styles to choose from. :)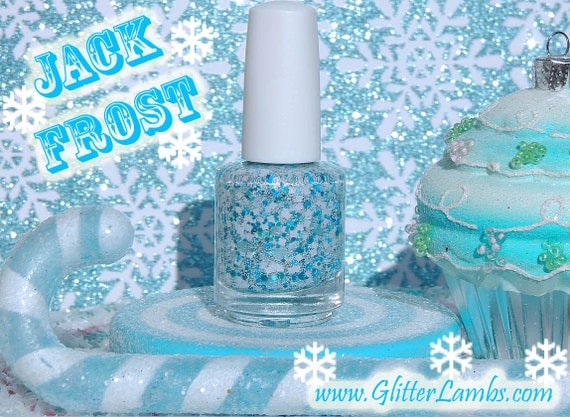 Jack Frost
I will forever love Glitter Lambs Polish. What they offer makes me so happy and I think their customer service and prices are amazing. Many of Glitter Lambs' polishes are on sale right now so definitely go check them out!
I have also included a video on how to accomplish two of the holiday looks above.
On to the giveaway! Yay!
One lucky international winner will be receiving 3 Glitter Lamb Nail Polishes of their choice!
a Rafflecopter giveaway