Hello everyone!
I'm continuing our holiday giveaway spree with a returning sponsor from Turkey!
"Life is too short to wear boring jewelry" My Funny Things is a perfect match for this beautiful quote. The shop offers various colorful animal earrings, fun brooches and cute mismatch jewelry for everyone.
I had the opportunity to review some of My Funny Things' lovely earrings.
Let's start off with the overall packaging and presentation.
My earrings arrived in a bubble wrap envelope with a cute little jewelry box to store my new bling.
The presentation was simple but nice so you can easily directly ship-gift these beauties to your loved ones for the holidays!
These earrings are (as you can see) really pretty. I was initially attracted to the feathered pattern design on them (I love pretty much anything with wings) but they are prettier in person. The gold trimming adds a nice pop to this design and they are still light weight for 1.25" earrings. I realize I'm holding them upside here so I flipped the photos so that you can see the wing shape right side up. :)
Here's what they look like on a human. Hehe.
Moving onto my next beautiful pair of earrings, here are my new sheep earrings!
For the holidays, these accessories are all so gift-worthy!
Mushroom earrings $12




How did your shop get started?


I love doing something fun and colorful all the time and my funny things is my best toy nowadays. I am enjoying making these cute, fun jewelry and I though people will like those one of a kind products. And they did. It is a kind of new small business for me but getting bigger and bigger everyday.




Dana: These mushrooms are SO cute! I just can't.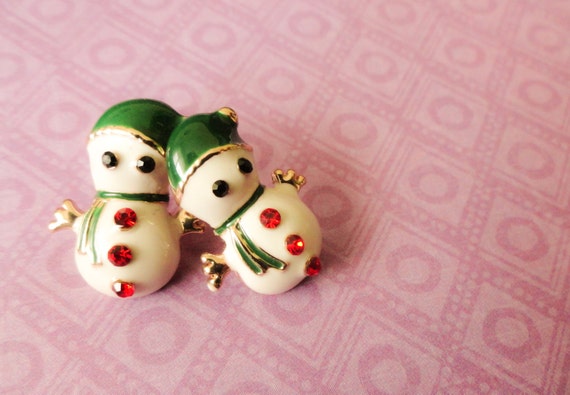 Snowman Earrings $14
What is your favorite product to design/make?
This silly lazy cat is my favorite. I love her belt and she just make me smile whenever I wear this earrings :)
What's the most challenging part of your line of work?
At the beginning I though these items will be only for tweens and little girls but I realized that my target is not only them, all the adults love my product and I needed to change my whole strategy for my brand. It is a very good thing actually because I am reaching more people around the world now.
I am so glad
My Funny Things
is reaching out to a broader demographic because I think adults and kids alike would enjoy this jewelry. It's fun and adorable-- I got compliments wearing both of my earrings from a wide age range just because they catch your eye. The craftsmanship is amazingly clean and beautiful. It honestly made me so happy to wear these during my final exam week because the little things really brighten your day. I hope you guys loved My Funny Things as much I as did.
My Funny Things has generously offered a giveaway to all of you guys! Yay.
One lucky international winner will win a $20 My Funny Things Git Card!
a Rafflecopter giveaway
Connect:
Coupon Code: Free Shipping: HANDEMADEIT
You're Welcome! Good Luck!!