Hey guys!
It's been so chaotic preparing to move half way across the country. I started working on my vaccinations and loan applications...but sometimes, you just need a day to yourself. I recently babysat and the 2 year old loves to go outside. As we enjoyed the sunshine, I discovered a patch of clovers and found about 15 within 5 minutes. It was fun and I haven't done that in a lone time!
Then it got me thinking.. I should share the process on with you all!
So I'm back with a fun video on my four leaf clover hunting adventures.
I made a video on how I approach finding them and drying them as well.
Have you found a four leaf clover before? :)
Facts about four leaf clovers:
♥ Four leaf clovers come from the White Clover plant called trifolium repens.
♥ Each leaf represents something different: Hope, Faith, Love, and the 4th is luck.
♥ Authentic clovers display a white watermark or herringbone imprint on each leaf.
I decided to sell my
authentic four leaf clovers on Etsy
for people who want them but can't find them on their own. They make great gifts and craft projects. At this rate, I can probably sell them at wholesale price too. :D
I believe luck is a mindset. If people say you are lucky, it's because you work hard and find opportunities for yourself. Sure, some people may have a little more luck than others with random things like finding money on the ground or showing up somewhere at the right time and place. But when it comes to your accomplishments, everything you worked for is what you deserve-- not luck. Let's make sure that is clear!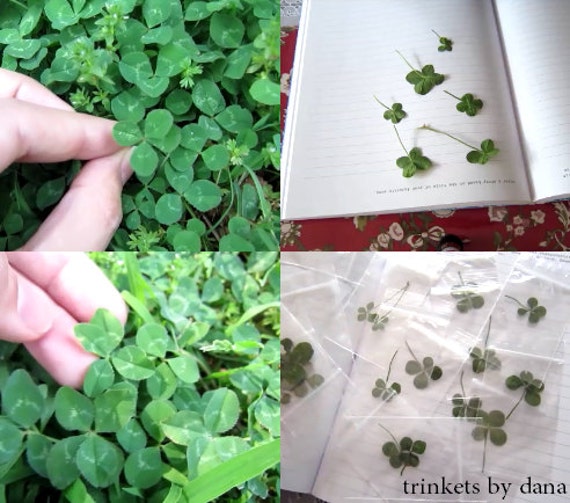 So that's it for today. I should do a school update post but it's exhausting even talking about it sometimes. The funny thing is that the hard part is essentially over because I got into an amazing program. But I realized recently how much fear and doubt can do to you. It's so simple when you think about it. Pursue something, be motivated, and succeed. Doubt causes so much uncertainty and overthinking that you don't need in your life. If you are experiencing this or ever feel like you are, stop. You are doing great and everything has a way of working out when you put effort forward. I'm going to earn a Masters.. maybe even go for my Doctorates in a program that will cost me hundreds and thousands of dollars. But I'll be doing something that I love everyday and that's what counts. If you let every little thing stop you from heading to your goal, you won't go anywhere. Don't make excuses that don't matter and don't hide behind your fear. Just go for it (prepare of course) but don't put your dreams on pause so much that it doesn't get to play. It's unhealthy and debilitating. Everything will be okay. :)